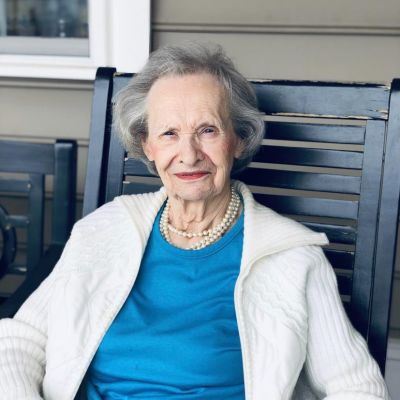 MIldred
Cerasa, Smith, Lauther
Join us in celebrating MIldred—please share your stories and photos, and help spread the word about this page!
Millie "Sis", age 93, of York, passed away on March 5, 2022 at SpiriTrust Lutheran-Sprenkle Drive where she resided for the past 5 years.

Millie was born in Sylvan, PA on July 12, 1928 and was the daughter of the late Roy E. and Mary L. (Gregory) Zimmerman. She graduated from Mercersburg High School Class of 1946, attended Indiana University of Pennsylvania, and later graduated from Thompson Business School. Millie then went on to work for the York Naval Ordnance Plant, where she was named Miss NOP; next as a medical secretary for Queen Surgical Associates and then as a receptionist for Jeffrey E. Flickinger & Co., Inc. where she later retired. Millie was a devoted member of Advent Lutheran Church in York and sang in their chancel choir. She was a gracious hostess, skilled cook and loved to entertain her friends and family. Her sharp sense of humor and zest for life made game nights and holidays memorable for all. She also had a strong work ethic from being raised on a dairy farm and was gratified to have a career when it wasn't common for women. Millie took immense pride in her children as she watched them excel in their careers and family life; and the role of grandmother and great grandmother brought her much joy.

Millie is survived by her sister Joan M Allen; daughter Pamela Cerasa Nothstein (Keith); her stepchildren Linda L. Fry (Dennis) and Stephen G. Smith (Jean); daughter-in-law Charlene M Cerasa; her granddaughter Anne Cerasa Klimpl (Jason); her step-grandchildren Christopher J. Nothstein, Laura A Clark (Patrick), Michael O Fry (Janelle), Stephanie J Erney and Angela J Mast and her great-grandchildren Joshua D Klimpl and Ryan B Klimpl. She is also survived by numerous nieces and nephews. She was preceded in death by husbands William C. Cerasa, George C. Smith, and P Sherman Lauther; her son David W Cerasa; her step-grandson Scott E. Nothstein; and her sister Betty R. Wilkins.

A funeral service in celebration of Millie's life will be held on Friday at 11:30AM at Advent Lutheran Church, 1775 E Market St, York, PA 17402, with Rev. Constance Mentzer officiating. A viewing will be held on Friday from 11:00-11:30AM at the church. A private graveside service will be held in Spring Grove. The funeral services are under the direction of Beck Funeral Home & Cremation Service, Inc., of East York.

The family would like to express their sincere thanks to the staff of SpiriTrust Red Oak and SpiriTrust Hospice for their love, care and support to Millie during the last five years.

In lieu of flowers, please consider SpiriTrust Lutheran for any gifts in memory of Millie.

Share condolences at www.beckfunerals.com
LINKS
Beck Funeral Home & Cremation Service, Inc.
http://www.beckfunerals.com
Lancaster News
http://www.lancasteronline.com