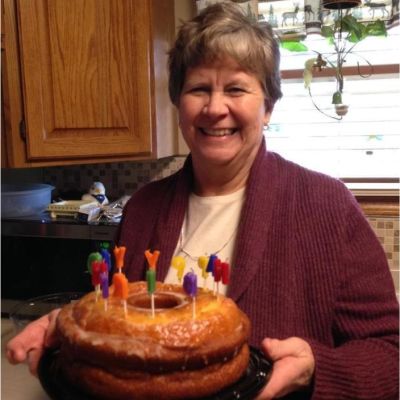 Michaelene
"Micky"
Costin
Join us in celebrating Michaelene—please share your stories and photos, and help spread the word about this page!
Michaelene "Micky" (Terry) Costin, 73, of Frankfort, passed away Monday, August 2, at Wesley Manor in

Frankfort surrounded by family. Born February 7, 1948, in Belle Union, she was the daughter of Ruth M.

(Cox) and Paul Terry.

Micky graduated in 1966 from Fillmore High School following the consolidation with Belle Union High

School. She married DeWayne A. Costin, and he preceded her in death in 2013.

Micky held several jobs over her lifetime, including bookkeeper, lunch lady, and bank teller. But the "job"

she loved the most was Mom. She reached the pinnacle of that "career" when she was promoted to

Grandma. Her grandchildren were her pride and joy. Throughout her 30-year marriage to DeWayne, she

also partnered with him on his successful cattle and cash crop farm, which was always more than just a

job to both of them. Micky was known to her friends and family as the "Tupperware Queen," and she

also was an avid gardener, garage saler, recipe collector, stamper, crafter, and baker. She was particularly

"famous" for her cinnamon rolls, cobblers, and homemade doughnuts, which she made each fall for

friends and family. Micky also loved Jesus, following him faithfully for decades, and serving him well by

loving and sacrificing for others.

After living in Putnam County her entire life, Micky moved to Frankfort, Ind., in 2017, following a stroke

to be near her daughter, Charity. Eventually, she moved to Wesley Manor for additional care where she

made many friends and enjoyed getting to know the staff. She loved attending the many activities and

programs there, and even in her last week of life, when she wasn't able to participate, she still enjoyed

being with the other residents for exercises, crafts, and especially BINGO.

Micky is survived by her son Gerald M. (Carla) Singleton II, Bozeman, Mt.; stepson Andrew A. (Lisa)

Costin, LeMoore, Ca., daughter, Charity S. (Steven) Craig; grandchildren Zachary Singleton, Erin Singleton,

Kole Singleton, Dustin Costin, Samantha Costin, Nicholas Craig, Caleb Craig, Jacob Craig, Katie Costin,

Lizzy Costin, and Dylan Costin; one great grandson, Brantley; sisters Caroline "Sue" (Jim) Wilson and

Patricia Dorsett; and many beloved nieces and nephews.

She was preceded in death by her parents, husband, stepson Ronald H. Costin, brother-in-law Donald

Dorsett, and brothers Robert Terry and Steve Terry.

A Celebration of Life Open House will be held at 2-4 p.m. Sunday, August 8, 2021, at the Cloverdale

United Methodist Church. Her children invite friends and family to bring photos to show and stories to

tell as we gather to remember and celebrate Micky's life. The family also would like to extend their deep

gratitude to the staff of Wesley Manor Retirement Community and Guardian Angel Hospice for the

extraordinary care and compassion over the past weeks and years and to Whitaker Funeral Home for

their kind assistance with the arrangements. Memorial contributions may be made in Micky's honor to

the Wesley Manor Employee Appreciation Fund, 1555 N. Main St., Frankfort, IN 46041.
LINKS
The Times
http://www.ftimes.com