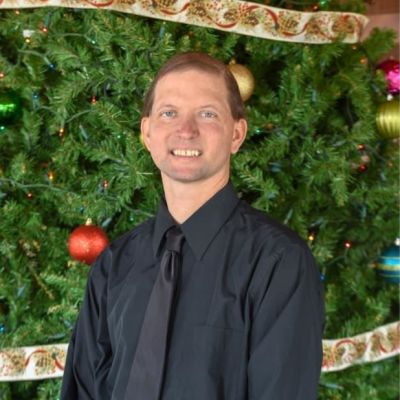 Michael
Wilson
What do you remember about Michael? Share your stories and photos here, and invite others to come share their memories.
Michael Lee Wilson, 44, passed away surrounded by love in Houston, TX on August 26, 2021. He will be warmly remembered and forever loved by his wife, Jan, and children, Kaiden (12) and Eden (9), of Rossville, TN. Michael's passion for music and band, love for his family, and joy of all things Star Wars, technology, and Disney will always be synonymous with his memory.

Michael grew up in Tupelo, MS, graduating from Tupelo High School in 1995. He met his first love while in school - music! He played the French Horn, which provided him many amazing adventures throughout his life. After graduating high school, he spent three summers (1995-1997) marching in Southwind Drum & Bugle Corps, where he developed a deep love of the marching arts. In 1998, he was a member of the prestigious Phantom Regiment Drum & Bugle Corps, a highlight and honor in his life. SUTA!

He attended Northeast Community College as a member of the band before transferring to Delta State University where he met his second and greatest love, Jan. He graduated in 2000 with a Bachelor's in Music Education. Fifteen years later he fulfilled a lifelong dream of attending an SEC school, receiving a Master's in Music Education from the University of Florida. Chomp! Chomp!

Michael began his career as a band director at Shannon High School in Shannon, MS, first as an assistant director then as the head director (2001-2003). He then took a leap of faith and moved to Tennessee to become the Assistant Band Director at Houston High School in Germantown, TN (2003-2008). The Houston Band had many successes with the addition of Michael in their leadership. They had two undefeated marching seasons, including two prominent wins at The Bandmaster's Championship in the Liberty Bowl in Memphis, TN, and being Grand Champion at The Vanderbilt Marching Invitational in Nashville, TN. Michael also conducted the symphonic band at Houston High, receiving superior ratings at Concert Festival.

Michael left the Houston Band to become the head band director at Collierville High School in Collierville, TN (2008-2015). His proudest moment as a director was having his former high school, community college, and DSU band directors judge his band and award them with superiors. He ended his career on a high note as Director of Bands for the Milan Special School District in Milan, TN.

In addition to his wife and kids, Michael is survived by his parents, Herman and Joyce Wilson; his sister, Angela Matthews (James "Punkin"); and his nieces, Allie Abell (Trenton) and Erin Matthews; nephew, Tripp Matthews (Ashlee); and many other family members. Michael will be greatly missed by his friends along with many band students and families.

As we celebrate the life of this wonderful man, we invite you to join us at Houston High School in Germantown, TN, on September 12, 2021. A gathering will be held at 2:00 pm in the Pickler Band Centre followed by the Celebration of Life in the Pickler Performing Arts Centre at 3:00 pm to share in our love and admiration of Michael.

The Pickler Law Firm has set up a donation fund for Michael's family, as his illness prevented him from working or qualifying for life insurance. His greatest joy was his children and he dreamed of them fulfilling their educational goals. Donations to the family can be made at www.celebratingmichael.com.
LINKS
Earthman Bellaire Funeral Home

Daily Journal
http://www.djournal.com