Maxine
Carolyn
nee Booher Allen
What do you remember about Maxine? Share your stories and photos here, and invite others to come share their memories.
Maxine was born in Cumberland County, Kentucky, on August 5,1937, as the daughter of James Edward and Ovie Dell (Davidson) Booher. Maxine grew up on a tobacco farm where her parents were sharecroppers. She married Edward Melton and worked at a sewing factory in Albany, Kentucky. Maxine and Edward had two daughters, Becky and Linda, and later moved to Guthrie, Indiana. Maxine and Edward divorced, and Maxine later married Larry Allen Sr. on April 6,1980, prior to Larry's death in 1983, Larry and Maxine had a son. Maxine began working at Indiana University in food service and moved to Bloomington. She went on to work at Zeta Tau Alpha sorority at IU. Maxine always took pride in her work, and she loved the girls at ZTA. Maxine spent years volunteering in Boy Scouts and attending Eastview Church of the Nazarene in Bloomington. Above all, She had indefatigable love of her family. Maxine is survived by her three children Rebecca (Greg) Eads, Linda (Marvin) Roll and Larry (Jen Pearl) Allen Jr.; four grandchildren: Sheila (Travis) Terrell, Daniel (Brittany) Roll, Brandon (Amanda) Eads, Kara (Nick) Brummett; and her great great grandchildren: Dalton, Dylon, Gage, Gracelyn, Griffin, Shockey, Braxton, Kenadee, and J.R. She is also survived by three siblings: Imogene Fletcher of Burkesville, KY.; Randa Hughes of Louisville, KY. and Joe Booher of Albany, KY. She was preceded in death by her parents, her brothers Billy, Gene and Sam Ed Booher, and her sisters Suretha Booher and Monzell Booher Hill. Visitation will be at Crossroads Community Church in Bedford from 6:00 to 9:00pm on Tuesday, September 15. Maxine's funeral will be Wednesday, September 16 at 1:00pm at Crossroads Church, and burial will follow at Hilltop Cemetery in Avoca, Indiana.
LINKS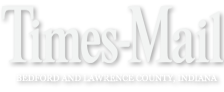 The Times-Mail
http://www.tmnews.com

The Herald-Times
http://www.heraldtimesonline.com
Memories
Looks like something went wrong.
Reload the page and try again.