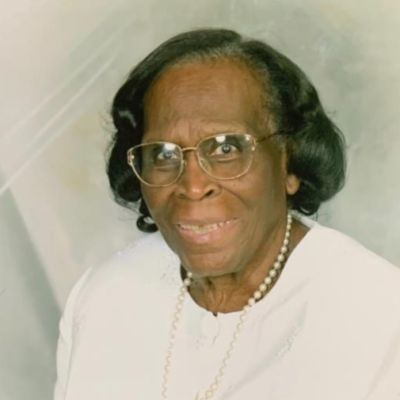 Mattie
L
Davis
Join us in celebrating Mattie—please share your stories and photos, and help spread the word about this page!
A Celebration of Life for Mother Mattie Lou Mason Davis, 101 of Hillsboro, Alabama was held at 3:00 pm Saturday, May 8, 2021 at David Temple "Word of Faith" P.B. Church with Bishop Curtis Foster officiating. Inhumation was in Foster-Davis Cemetery and Reynolds Funeral Home directed.

Mother Davis was born July 11,1919 in Rome, Georgia to the late Mary Goans and John H. Mason. She relocated to Lawrence County as a very young child. She departed this life on Tuesday, May 4, in the comfort of her home.

At an early age, she confessed Christ as her Lord and Savior, and joined David Temple PB Church in Hillsboro. Her love for God and her Faith was exhibited in her service on the Mother's Board, the Sister's Aid Society, and as a member of The Carrinder Chapel, Number 97 Order of the Eastern Star.

She was known as a devoted Wife, Mother and Grandmother. She was dedicated to making her family feel loved, and not only worked as a homemaker, but also worked outside the home to help support her family.

In 1948, she married Deacon Thomas Henry Davis, and they were blessed with eight wonderful and devoted children. Senoba(Clarence) White; Irene (Luther - Deceased) Owens; Marcella (Ervin - Deceased) Coffey; Patricia (Carnell) Campbell, who preceded her in death; Thomas, Jr.; Doris Davis; Glenn (Doris Ann);Roderick LaBron(Brenda); one sister, Betty Mason; two sisters preceded her in death, Annie Odell Campbell and Margie Baggett; 23 grandchildren, 28 great grands, and 3 great-great grands, with one grandchild (Paula Owens Whitson, and one great grand, Kendall, who preceded her in death); along with an unspecified number of nieces, nephews, cousins, church family, and friends - many of whom referred to her lovingly as - Aunt Mattie.
LINKS
Reynolds Funeral Home
http://reynoldsfh.com
Decatur Daily
http://www.decaturdaily.com