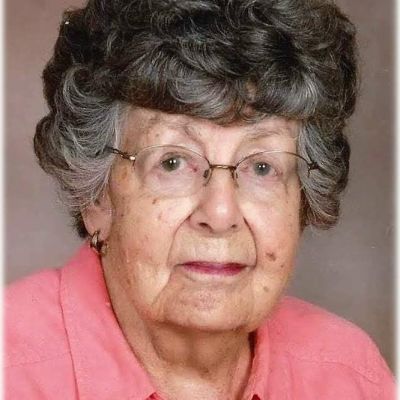 Mary
Frances
Matejcek (Byrne)
Join us in celebrating Mary—please share your stories and photos, and help spread the word about this page!
Mary Frances (Byrne) Matejcek left the earth on January 8th from natural causes. She was surrounded

by Irish Energy from the 99 years of happiness, contentment, involvement and living a deep Irish Catholic

Faith. Her children and grandchildren were on a Zoom call with her throughout her final hours, reciting

her beloved rosary with her as she held her own beads in her hands. Mary was born in St. Thomas, LeSueur County on December 28th, 1922 to Dick & Celie (Kilduff) Byrne. She was raised along with her five Irish siblings, in a community consisting of an entirely Irish population, unaware there were other nationalities in the world until she went to high school. Mary graduated from LeSueur High School in 1939, went on to Minneapolis Business College and joined the U.S. Army in 1945 with the WACs. She returned to LeSueur County to search for a future mate, choosing Hardegeers as the local hangout of choice for the search. While dancing abilities were a must, she chose a self-avowed Czech Civil Engineer with NO dancing abilities. In June of 1948, she married Thomas J Matejcek, of Le Center, in the Church of St. Thomas. She attempted to keep him light on his feet, and hers, but did not go far without Tom's slide rule. They began their life together in Waseca. Mary was a stay-at-home Mom in the early years, teaching their children basic life skills, involving her secret recipes, cooking, cleaning, ironing, all to be performed in the morning hours. Afternoons were for recreation and growing together as a family unit. She did find the time to become involved in Waseca's infamous St. Patrick's Day celebrations, Sacred Heart Church activities and any group of women in town playing bridge. Mary and Tom later moved to Wells, where they joined St. Casimir's Church, becoming actively involved in church and in St. Casimir's School. Over the years, she became involved in the Food Shelf, American Cancer Society, Mrs. Jaycees and church groups. When her children were all in school, she began putting in time at the Wells Hospital in order to retain her sanity! Despite an extremely busy life, she was proud of the fact that she never experienced a single gray hair, claiming this was because of her Irish Heritage, certainly not her children.

In 2005, Mary and Tom moved to their final destination; Le Center, Le Sueur County, completing the full

circle of their lives, both spending their final years where it all began. Mary and Tom traveled to Ireland more than once, and also toured Europe in order to appease Tom's desire to visit the Czech Republic. During their final twenty years, they wintered in Fountain Hills, Arizona, appreciating the opportunities aging offered. Mary did not miss a chance to share with all that she was 100% Irish. Her friendships were extremely important to her. She continuously organized coffee parties, dinners, and opportunities to share their lives with their precious friends.

Mary is survived by her children, Anne (Rick) Becker, LeCenter, Nancy (Jack) Sousa, Minneapolis, Mary

Dymond, Minneapolis, Tom L Matejcek, Minneapolis, Michael (Lisa Ray) Matejcek, Minneapolis,

Catherine (Al Werner) Matejcek, Shutesbury, MA, Jon (Jolene Rowan) Matejcek, St. Paul; 12

Grandchildren; 9 Great-Grandchildren.

Mary is preceded in death by her dancing partner, Thomas J; her parents, Dick & Celie Byrne; her Irish

siblings, Alice (Clem) Groh, Lucille (Ronnie) Stratton, Millie (Eddie) Zika, Kay (Wayne) McMillen and

Jimmy Byrne.

Mary's final Celtic farewell will be held at a future date in the spring, when the four-leaf clovers are

blooming!

Arrangements are with the Le Center Funeral Home 507-357-6116. On-line condolences may be left at www.lecenterfuneralhome.com.
LINKS

Le Sueur County News
https://www.southernminn.com/le_sueur_county_news