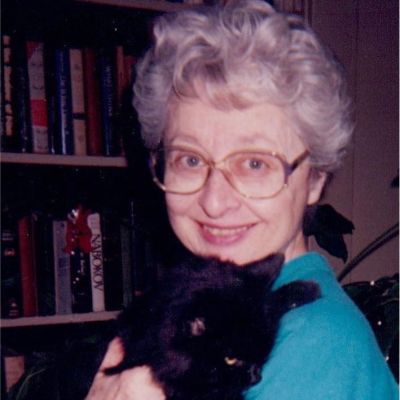 Mary
"M.E."
Evelyn
Gibert
How do you know Mary? Please share your stories and photos, and help spread the word about this page!
M.E. passed away in the early hours of Wednesday, October 13, 2021, in her room at Montclair Assisted Living, in Decatur, after a brief battle with cancer.

Mary Evelyn (pronounced MaryEvelyn- she preferred the two names to simply 'Mary') Wellons grew up in rural southern Virginia and dreamed of a different future for herself. She loved to read and often sought cooler temperatures below the porch, or in the cellar, to find time for a great book. Her mother taught elementary school and her father was a farmer. She skipped a grade, went to James Madison College at sixteen, and after graduation found a job as an elementary school librarian in the city of Norfolk. She and her roommates dated the occasional sailor or naval officer, and played a lot of bridge. Mary Evelyn was invited on a double date by one such young officer, Hugh Gibert, who grew up in Columbia, SC and had attended the University of South Carolina. They were married in 1954. After his discharge from the Navy, they went south, where he studied law at Emory University. Their first son, Arthur, was born in Atlanta in 1957, followed in 1959 by Kenneth, in New Haven CT, where Hugh earned a second law degree at Yale. They relocated for teaching positions to Tuscaloosa, AL, Austin, TX, where John was born, and back to Atlanta, where James was born. Mary Evelyn enthusiastically raised her sons, taught them to read before first grade, nurtured their talents, and later participated in their family lives. Once Hugh had established a successful law practice in Atlanta and the boys were well launched, Mary Evelyn went back to school at Emory, earning a Master's Degree in Library Science, and then went back to work.

M.E. enjoyed her first position in the Georgia Tech library, where she soon became head of the Reference Department. Throughout her life and especially during this period, she formed many deep and long-lasting friendships. She was recruited by the CDC into a supervisory position, and retired in 1999. In 1980 after an amicable divorce, she became an 'urban pioneer', buying a 1920's bungalow in Midtown- long before that was a 'cool' place to be. She loved her beautiful house and yard, her neighbors and Trader Joe's friends, and her chocolate Persian cat Razzle. She was a great cook, made a fantastic rhubarb pie and a mean pork roast, and really loved chocolate bars, ice cream, cake, you name it- if it was chocolate she usually liked it! She joined a midtown gym, made some more great friends, and was profiled on Chanel 5 News because she could do 6 pullups- when she was 80! She loved classical music and volunteered with the Atlanta Symphony Orchestra. M.E. especially loved jazz music, listening to "Jazz Classics" with H Johnson on the radio every Saturday night, and from an early age had instilled an appreciation of music in her sons. She was a long-time volunteer at Project Open Hand, and for over twenty years, a weekly volunteer at the Atlanta Food Bank, working with diverse crews of like-minded folks. She gave generously to many charities, especially those dedicated to women and people of color, protecting and enhancing the environment, public education, and more.

Hiking and traveling were Mary Evelyn's other passions. She was an original member of a group calling themselves 'the mountain women', with whom she enjoyed regular outings for three decades and remained lifelong friends. After retirement, she visited and hiked in such far-flung places as Peru, Bolivia, Belize, Mexico, and Alaska with another regular group. And, with her favorite nephew and his wife, she took many road trips around the United States as well. M.E. 'slowed down' a bit after she moved to Clairmont Place, 'only' hiking a few miles a week on the PATH trail. She was widely known for cleaning the trail of leaves, sticks and pine cones whenever she went out. M.E. and Hugh were early and active supporters of Civil Rights and equal opportunity. She loved meeting and getting to know people of all kinds and colors, from all walks of life. And they loved her with that beautiful, easy smile and her twinkling blue eyes. She will be greatly missed both at Montclair and at Clairmont Place. She is survived by all four of her sons, two sisters, and seven grandchildren.

In lieu of flowers, memorial donations may be made to The Atlanta Food Bank (www,acfb.org). Please visit www.fischerperimeterchapel.com for updated service information. Fischer Funeral Care and Cremation, Atlanta (678) 514-1000.
LINKS

The Atlanta Journal-Constitution
http://www.ajc.com