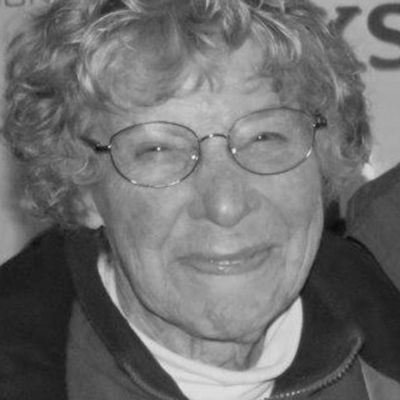 Mary
M.
Bartlett
Join us in celebrating Mary—please share your stories and photos, and help spread the word about this page!
Mary Morgan (Goodwin) "Polly" Bartlett, 93, meandered off from this world on her final hike and joined her late husband David C. Bartlett on April 6, 2021.

To many it may seem that Polly was a lifelong fixture of the Shelburne Falls area, but her love for this place and this community didn't come from having lived here forever. Born in Philadelphia on August 13, 1927, she grew up in Wyncote, Pennsylvania, daughter of Harold and Alice "Happy"(Hapgood) Goodwin. She flourished at summer camps in South Strafford, Vermont, and then earned her BS in Animal Science at Penn State in 1949. Seeking more employable skills and a bit of adventure she earned a MS in Dairy Science at Washington State University in 1951, and she served as faculty advisor to WSU's Outing Club. She held research positions at WSU, but her advisor told her there were no jobs she could do that a man couldn't do better. Persevering, she earned a position analyzing dairy genetics and productivity at UMass in Amherst. There she met her husband David C. Bartlett where he was finishing his MS in Civil Engineering. After they married in 1957 they moved to Houlton, Maine, where they started a family. They moved to Paxton, Massachusetts, where Polly became involved in town conservation work. They moved to Pine Brook Farm in Buckland, Massachusetts in 1968. There Polly quickly became involved in community life in the village of Shelburne Falls and the Deerfield River Valley.

Polly taught Physical Education at Buckland-Shelburne-Colrain Elementary School, substitute-taught, led nature programs for the Buckland Recreation Department, and introduced countless youth to horseback riding through her leadership of 4-H. She helped form the Buckland Conservation Commission and the Deerfield River Watershed Association, where among other things she led the annual Riverfest celebration and advocated for the Mohican-Mohawk trail, including construction of the bridge over the South River named "Polly's Crossing." Polly won many awards and accolades for her community involvement. Polly loved to hike, abroad or out West but equally as much in her backyard. A widening group of local hiking friends came to call themselves the "Champagne Hikers". One of Polly's most iconic roles was at the Shelburne Falls Trolley Museum, where she welcomed and educated guests about the local history and trolley but was best known as "Pumpcar Polly" for her rides on the hand-powered pump car.

Polly was pre-deceased by her granddaughter Amy Spencer (2001) and her husband David Bartlett (2015). She is survived by her son Robert "Sam" Bartlett (Marie) of Shelburne Falls, daughter Sarah "Sally" Spencer (Bob) of Shelburne Falls, daughter Nancy Bartlett of Albuquerque NM, grandson Jeffrey Spencer (Brenda) of Buckland, grandson Nathan Bartlett of Chicago IL, granddaughter Jeannie Bartlett of Burlington VT and great-grandson Nicholas Spencer of Buckland, and several nieces and nephews.

In honor of Polly, consider taking a hike; making some turns on the ski slopes; enjoying the spring woodland wildflowers; singing camp songs; doing yoga; growing your own vegetables (especially tomatoes); learning to identify a new tree or bird or flower; visiting the Shelburne Falls Trolley Museum when it reopens and taking a ride on the pump-car; dedicating time to building community; educating youngsters or helping the environment; or baking cookies or sweet rolls as a gift for anyone you love or appreciate. Polly was a role model for extending friendship to new acquaintances, and she approached life with a sense of adventure and grace. Pictures, journal entries, and memories from all who knew her illustrate her radiant love of life. In a typical reflection, Polly journaled, "Was it [the chocolate] which didn't let me get back to sleep for two hours in the middle of the night or was it just all the other blessings I was counting that kept me awake?"

Polly was involved in many organizations locally. If you wish to make a memorial donation, please choose an organization with which you associate Polly. Three of her favorites were:

The Shelburne Falls Trolley Museum, PO Box 272, Shelburne Falls, MA 01370 or www.sftm.org.

or the Deerfield River Watershed Association, 15 Bank Row, Suite A, Greenfield, MA 01301 (be sure to write "DRWA-Polly Bartlett" on the memo line) or deerfieldriver.org.

or the Art Garden 4 Union Street, Shelburne Falls, MA 01370 or theartgarden.wordpress.com.

A celebration of Polly Bartlett's life will be held at a time and place to be determined.

Smith-Kelleher Funeral Home in Shelburne Falls is assisting the family.
LINKS
Smith-Kelleher Funeral Home
http://www.smithkelleherfuneralhome.com

The Greenfield Recorder
http://www.recorder.com