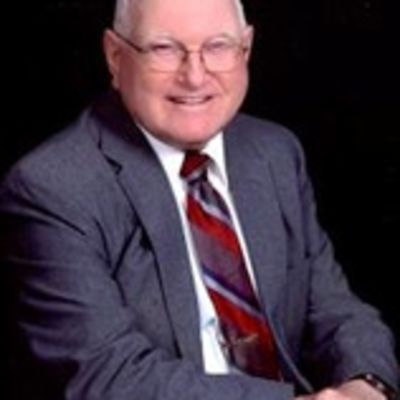 Reverand
Marvin
Keith
Moberly
Join us in celebrating Marvin—please share your stories and photos, and help spread the word about this page!
Rev. Marvin Keith Moberly, age 88, of Bartlesville, OK, peacefully passed away Friday, February 9, 2018 at the Journey Home in Bartlesville. Marvin was born August 17, 1929 in St. Francis, KS to Elmer and Neva (Wildman) Moberly. He was the 3rd of 6 children. He grew up on the farm, played tuba in the High School band. He came to know his Lord and Savior, Jesus Christ, at the age of 15 in a Portable Tabernacle meeting. He moved to Colorado Springs Bible School for his Jr and Sr years of High School and graduated in 1948. While continuing his education there, he met his loving wife of 68 years, Grace Lane Bolender. They were married in the Knob Hill Pilgrim Holiness Church by Rev. D.W. Lacy on August 19, 1949. They lived in Colorado Springs while he was in school, as well as ministered to the Navajo Indians in the TB Sanitarium, and he worked at Sears. They moved back to St. Francis, KS, where they lived and worked on the farm, as well as ministered in traveling Song Evangelism. He was Ordained in the Wesleyan Church in 1960. He finished his education thru correspondence, receiving his BA in Religion from Central Pilgrim College in 1962. His Pastorates included Lewellen, NE; Plattsmouth, NE; Glenwood, IA; St. Louis, MO; Alva, OK; Jonesboro, AR, and Lakin, KS. He retired from full time pastoral ministry in 1996 and moved to Bartlesville, OK. To fill in the time, he worked various jobs including Voice of the Martyrs for 15 years, Walmart greeter, Stumpff Funeral Home, flying coast to coast to pick up cars to drive back for a car dealership, as well as filling the pulpit for Pastors. He had a heart for Missions and loved to travel, going on several missions trips even into his late 70's, to China, Costa Rica, and Mozambique each twice, Peru, Thailand/Laos, South Korea, Barbados, and St. Croix. For fun, he took Grace to Costa Rica for their 51st Anniversary and went to Italy/England with the College to tour. He was a part of the Tri-State District of the Wesleyan Church from 1965 – 1985, and the Kansas Wesleyan District until 1996. He was part of the DBA for 21 years and District Treasurer for 9. He was the Secretary for the Ministerial Alliance in St. Louis, was a member of the Rotary Club in Alva, Visitation Pastor of Bartlesville First Wesleyan. He led the building projects at Lewellen, St. Louis and Alva Wesleyan Churches. He had a passion for printing on off-set printing presses, owning his own business Gra-Mar printing, throughout his ministries. His hobbies included golfing, bowling, singing in the Church Choir, traveling, volunteering, taking the youth of his churches on trips, joking with people. He never lost his sense of humor. Marvin is survived by his loving wife, Grace Lane Bolender Moberly; Son: Richard (Terri) Moberly; Daughter: Shirley (Gordon) Johnson; Barbara Dillon Moberly; Grandchildren: Ronald (Tammy) Moberly, Rob (Lori) Moberly, Stephanie Johnson, Megan (Josh) Freed, Allyson (Nathan) Glass, 9 Great grandchildren, Sister: Twila Moberly, Sisters-in-law: Iona (Merle), Mary (Darrel), and Donna (Don) Moberly, as well as many friends. Preceded in death by: Parents: Elmer and Neva Moberly, Sister: Naomi Belle (Tootsie) Moberly, Brothers: Merle, Darrel, Don Moberly and Sister in law: Marilyn (Don) Moberly.

Come and go visitation will be at the Stumpff Funeral Home Monday thru Thursday from 9 AM until 8 P.M. The Moberly family will receive guests for visitation on Friday evening from 6 P.M. until 9 P.M. at the First Wesleyan Church.

Services will be held at 2 P.M. Saturday, Feb. 17th at the First Wesleyan Church. Interment will be in the Memorial Park Cemetery directed by the Stumpff Funeral Home and Crematory.

Family members include his wife, Grace Moberly of Bartlesville, a son, Richard Moberly and wife Terri of Bartlesville, daughter, Shirley Denise Johnson and husband Gordon of Wichita, Kansas.

In lieu of flowers the family suggests memorial donations to the First Wesleyan Church Missions Fund, 1776 Silver Lake Road, Bartlesville, Oklahoma, 74006, or the Voice of the Martyrs, 1815 S.E.. Bison Road, Bartlesville, Oklahoma, 74006 or the Journey Home, 900 N.E. Washington Blvd., Bartlesville, Oklahoma, 74006.