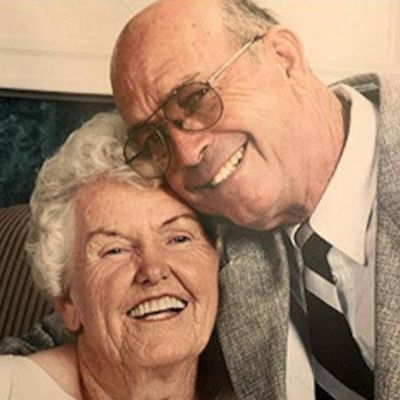 Martha
Genell
Evans
Help us celebrate Martha! Please share your stories and photos, and invite others who remember Martha.
Mother, aka Martha, Genell, Sis or Nannie, flew to GLORY Friday, December 6, 2019 at 10:58 pm in the comfort of her home at the age of 87. Her final journey consisted of 6 long, hard days acknowledging her final goodbyes and love while surrounded by family.

Martha Genell Slaten Evans was born April 13, 1932 in Fort Stockton, Texas to Morrison Cornelius (Bill) Slaten and Ivory Mary Gerbert. She eloped with the love of her life, Damon Lee Evans, August 12, 1950. After confessing their elopement to their parents, their marriage was blessed in the Catholic Church in October 1950. "Sis" was an active 4H participant as a teenager. She won Grand Champion in Chicago in 1949. She graduated Fort Stockton High School in 1950 and later graduated from Tri-State School of Beauty Culture January 20, 1951, in El Paso , Texas. Mom was the resident stylist for our whole gang. Summer's end would find her along with the sisters twisting all of the girl childrens' locks into the requisite school-girl Toni perm and Buster Brown bangs.

Mother had the spirit of a gypsy. From the beginning of their union she was a "mover"! Dad laughed often remembering coming home from work and seeing a little girl carrying boxes so high he couldn't see her face. When he realized it was Mother, he knew they were moving to a new apartment. She moved our bedrooms around as regular as dusting. We never knew which room we were in when we got home from school. Looking in a doorway didn't help as we had matching furniture and odds were the bedding had been changed as well. However, her ultimate move was sending in a job application for Dad with Aramco in Saudi Arabia. She requested it from an ad in the Odessa American, filled it out, and mailed it back. His surprise to learn he had a job offer was something to behold! The packing began. They went to Saudi Arabia in 1978 and stayed until 1986. Mother loved traveling the world. She also loved the years of traveling in their motorhome. They made their motorhome their permanent residence for several years. They crawled through Texas and did genealogy research to Minnesota and back as well as spending their summers in Mexico fishing.

Mother is survived by three daughters all living in Odessa, Texas. Terry Bergeson, Patricia Patterson and husband Jim Patterson, and Tashya Camacho and husband Fred Camacho. She has 11 grandchildren, and 21 great-grandchildren. Two sisters survive Mother; Mona York and Sue Schmedinghoff, as well as too many nephews, nieces, and cousins to mention.

The love of her life, Damon Lee Evans, predeceased her in 2018. Her first born son, John David Evans, predeceased her in 2016, and baby Richard Wayne Evans predeceased her in 1956. She was preceded in death by two sisters, Anna Jo Gray, Mary Helen Taliaferro, and her brother Will Slaten, as well as her parents Morrison Cornelius Slaten and Ivory Mary Gerbert Slaten. She was also preceded in death by her son-in-law Eldon Bergeson.

In lieu of flowers, we ask for donations to Odessa Hospice. We daughters are forever grateful for the kind, loving support our Mother received in their care. We would like to make special mention of the following very special ladies - Jennifer, Kayla, Cecilia, and Viola. Our list of gratitude will never be complete without the mention of her personal caretaker, Regina. "Thank you, ladies" from the bottom of our hearts.

The family will have a celebration of Mother's life Thursday, December 12, 2019 at 6 pm at 2916 San Saba Ct., Odessa, Texas.
LINKS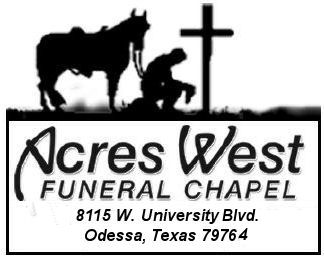 Acres West Funeral Chapel
https://www.acreswestfuneral.com
The Fort Stockton Pioneer
http://www.fortstocktonpioneer.com