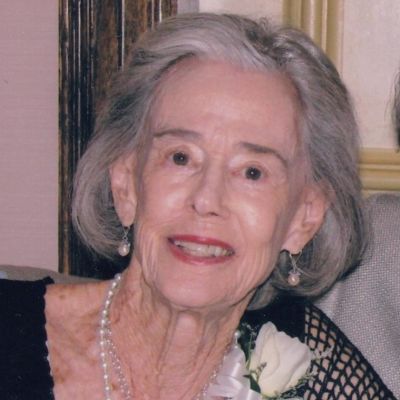 Martha
"Monk"
Vairin Witherspoon
Brannan
Join us in celebrating Martha—please share your stories and photos, and help spread the word about this page!
Martha (Monk) Vairin Witherspoon Brannan died on July 13, 2021. She was born in Indianapolis, IN on June 15, 1925. Several months later she moved to New Orleans, LA. She graduated from H. Sophie Newcomb College of Tulane University in 1946 and married Carl D. Brannan, M.D., of Jackson, MS. During Carl's years of internship and residency, Monk worked as a Lab Tech at Southern Research Institute in Birmingham, AL. In 1954, Monk and Carl moved to Jackson, MS where Carl started his practice of Surgery. They moved to New York City in 1968, where Carl had two additional years of cancer training before moving to Tampa in 1970. During Carl's last year of residency in New York, Tony was born December 15, 1953, the thrill of her life after almost 8 years of marriage. The remaining five children were born in Jackson, MS. Monk is survived by her loving husband of 75 years, Carl D. Brannan, M.D.; three sons: Anthony (Tony) Brannan, M.D. (Jane) and Bill Brannan (Kathryn), both of Tampa, and the Rev. Carl Brannan, Jr. (Beth), of Jackson, MS; and two daughters: Rebecca (Becky) Brannan Hatcher and Vairin Brannan Tolley (Rob), both of Tampa; and daughter-in-law Kimberly (Kim) Brannan of Tampa. In addition, Monk is survived by 19 wonderful grandchildren and 12 great-grandchildren: Nathan Hatcher (Katie), daughters Sophie and Evie and son Joseph; Ben Hatcher (Melody), son Stephen; Tony Brannan, Jr. (Christina), sons Wilson and Hunter; Amanda Lazo, D.D.S. (Chris Lazo, M.D.), sons Jackson, Ryan, Luke and Tyler; Andrew Brannan (Mallory); Samuel Brannan (Briana); Rachel Purvis (Jason), son Joshua and daughter Kara; Sarah Pearce (Austin); Cealia Brannan; Price Brannan; John, Jr., Mark and Laura Brannan; Aubrey, Austin and Blake Tolley; Stuart, Henry and Charley Brannan; and several nieces and nephews. Monk was predeceased by her parents, John Barkley Witherspoon and Martha Bruce Witherspoon. She was also predeceased by her two sisters in 2011, Brucie Rafferty and Ellie Caffery. She is also predeceased by her son, John Barkley Brannan and by her son-in-law Stephen Barclay Hatcher. In Jackson, MS, Monk was an active member of the First Christian Church, Junior League, Symphony League, Red Cross and Salvation Army. Monk was a charter member of River Hills Tennis Club of Jackson, where she was an avid tennis player. Upon moving to Tampa in 1970, Monk joined Hyde Park Presbyterian Church where she was an active member and an elder until her death. In 1975, Monk served with her husband as co-chairs of the Young Life Adult Committee of Tampa. She was an ardent supporter of Young Life until her death. Monk was an expert sailor, having sailed as a young girl in New Orleans and on the Mississippi Gulf Coast. She continued to enjoy sailing in Tampa Bay for many years. She was a member of Palma Ceia Golf and Country Club, where she enjoyed many years of golf, tennis and bridge. She loved ringing the bells at Publix for the Salvation Army with many of her grandchildren and enjoyed many years as a Chiseler. A memorial service was held at Hyde Park Presbyterian Church on Saturday, July 17, 2021. Memorial gifts may be made in Monk's name to Hyde Park Presbyterian Church Memorial Fund or Young Life of Tampa.
LINKS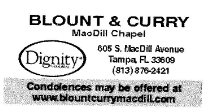 Blount & Curry Funeral Home -MacDill Chapel

Tampa Bay Times Memoriams
http://tampabay.com
Memories
Looks like something went wrong.
Reload the page and try again.