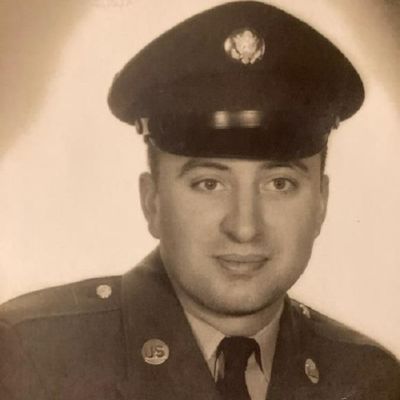 Marshall
James
Fetter
Join us in celebrating Marshall—please share your stories and photos, and help spread the word about this page!
Marshall (Marty) James Fetter, 91, of Blosersville Pa, passed peacefully into Jesus' heavenly arms on Friday, 10 March 2023 with his loving wife and family by his side. Marty was born on 9 October 1931, in Carlisle Pa and was the son of the late James A. Fetter and Romaine L. Albright Fetter of Carlisle.

In Marty's early years, he sold newspapers for The Sentinel as a young boy. His street corner spot to peddle his daily batch of papers was in front of The Hamilton Restaurant on High Street in Carlisle. He vividly remembered all the news of WWII events that were unfolding during those times, as he yelled out "extra, extra, read all about it." During the summers when Marty was a young boy, he also worked on his Grandfather Albright's farm that further reinforced his strong work ethic. Marty was the oldest of eight children. He was directed by his father to work full time at Troy Laundry and Dry Cleaners at the early age of 14 to help provide for his family. When Marty turned 19, he enlisted in the Army and received orders to report to Ft. Jackson, SC for basic training. In February 1951, Marty was sent to the Republic of Korea. He was a highly decorated Korean War veteran (1951) with two bronze stars for valor while serving as an explosive's specialist in the 185th Combat Engineer Battalion during the Allied Forces breakout from Pusan, Republic of Korea (ROK) and their subsequent advance into North Korea. When Marty returned home on leave, he worked at his Aunt Marie and Uncle Carter Marsh's restaurant called The Boiler. Marty proudly served in the US Army for twenty years retiring as a Sergeant First Class with nine consecutive years in West Germany. He was stationed in West Germany when the Berlin Wall was constructed, with his unit being on high alert for many months. During his twenty years of service in the Army, he was awarded the: National Defense Service Medal (two times), Good Conduct Medal (six times), Korean Service Medal, Army of Occupation Medal, Army Commendation Medal, United Nations Service Medal, and many General Officer commendation letters while serving in various Armored and Engineer Battalions, in the 3rd Army, the 7th Army, and the10th Corps both in the United States and overseas to include a special assignment in SCARWAF with the Strategic Air Command. After retiring from the Army in 1971, Marty returned to Pennsylvania and worked at Eastern Freight and then Carolina Freight for another 14.5 years. He enjoyed collecting countless types of things and especially items that he might need around the farm or on a piece of equipment. He was known to never throw anything away, "as he might need it someday." Moreover, he enjoyed reading The Bible and military historical books and watching cooking shows on TV. He was a tremendous fisherman and enjoyed boating and fishing with his friends from the Rod and Gun Club, at Letterkenny Army Depot. He was a member of the Letterkenny Army Depot, Rod and Gun club for 22 years and served as a committee member for years in the club. He was an avid hunter and always achieved the limits of deer, pheasants, and small game that he was allowed each season. In addition to hunting and fishing, Marty loved gardening, farming, raising cattle, ducks, and rabbits. For decades he had a massive garden that allowed him to provide food for many people. He attended church services at the Newville Big Spring Heights Church of God and enjoyed the friendship of the church's pastor; (Pastor Chris Faylor). Marty had a strong sense of discernment and wisdom and his charitable contributions assisted thousands of people through many different organizations though few people knew this of Marty, as he enjoyed his privacy. He had a unique sense of humor that was only decerned after getting to know him. In 2003, Marshall returned to the Republic of Korea for one week with his wife to visit soldiers on the DMZ and at selected military sites around Seoul, Korea for the 50th Commemorative Anniversary of the Korean War. He also took a special trip to Israel with his wife Susie, that was very special to the both of them.

He is survived by his loving wife Hazel Lavern "Susie" (Morrison) Fetter, of sixty-eight years. He is also survived by their children and spouses, Mr. Roger Demarsh and wife, Brenda; Ms. Karen Nation; Ms. Sherry Grabowski; Mr. Richard Fetter; Mrs. Vicki Barrick and husband, Randy; LTC(R) Mark Fetter and wife, Christine. Surviving Grandchildren are, Mr. and Mrs. Carlos (Stephanie) Sallee, Mr. and Mrs. Kris Pope, Mr. Van Haley, Mr. and Mrs. Timmy Pope, Mr. Nick Noojin, Ms. Staci Neil, Mr. and Mrs. Cash (Angel) Brooks, Ms. Megan Baswell, Mr. and Mrs. Chuck (Sarah) Tarbert, Ms. Randi Slaughter, Mr. and Mrs. Randy Lee Barrick, Mr. and Mrs. Michael Barrick, Mr. and Mrs. John (Tanya) Hoover, Mr. and Mrs. Sean (Ariana) Taney, Mr. Jamie Fetter, Mr. and Mrs. Lyall (Rebecca) Paterson, Mr. and Mrs. Benjamin Fetter. Also surviving are his Great-Grandchildren, which he had specialty names for, such as Lil Skadoodlehopper, Lil Gumdrops, Lil Scooter, Lil Snookers, Sugar Plum, Dancing Princess, etc. Ellie, Kaitlyn, Davis, Kaelyn, Kiera, Brady, Morgan, Alye, Avery, Nicholas, Levi, Taylor, Demi, Lynzee, Evan, Cale, Jett, Kashton, Emma, Beck, Piper, Mr. and Mrs. Jesse Jr. Slaughter, Mr. and Mrs. Brenden (Candyce) Becker, Lilly, Ella, Ethan, Zach Six, Braydon, Kaylee, Cedric, Hannah, Lydia, Noah, Elijah, Gracie, and Lilia Claire. And surviving Great-Great-Grandchildren are Hunter, Ella, Harper, Rylee, Paris, Saylor, Ensley, and Delila. Marty's surviving brothers and sisters are; Mr. Kenny Fetter, Mr. Dennis Fetter, Ms. Doris Diehl, and Ms. Joyce Fetter. Marty is also survived by many nieces, nephews, and cousins. Along with cousin's, Ewing Brothers; Steve Ewing and Professor Emeritus of Architecture, UVA, Edward Lay who completed the genealogy of the Fetter family. Marty immensely enjoyed reading about the Fetter family history going back to the revolutionary war and about the Fetter Mansion in Landisburg, Perry County, PA. Marty is predeceased in death by his parents; his sister Cathy, brothers, Donald, and Willie, and two grandsons, Jesse Slaughter and Joshua Fetter. Marty will be greatly missed by his family and friends.

Viewing and Funeral services will be from 10:00 am to 11:00 am (viewing) on Monday, March 20th, 2023, at the Ewing Brothers Funeral Home, 630 S. Hanover St., Carlisle with Pastor Chris Faylor officiating the funeral service from 11:00 am to 11:15 am. Burial service with military honors will be at Indiantown Gap National Cemetery, Annville at 12:30 p.m. In lieu of flowers, the family asks that memorial contributions be made to the Newville Big Spring Heights Church of God.
LINKS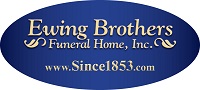 EWING BROTHERS FUNERAL HOME

The Sentinel
http://www.cumberlink.com