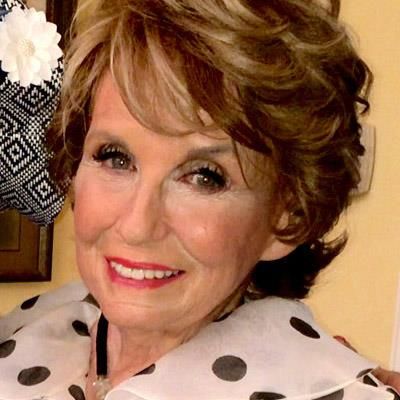 Marie
Fisher
What do you remember about Marie? Share your stories and photos here, and invite others to come share their memories.
A true Southern Beauty, Marie Robert Fisher passed away peacefully at her home on January 6th, 2022. Marie led an extraordinary life and was known for her impeccable style, grateful heart and joyful, optimistic perspective. Her journey started on February 23nd, 1926, in Fairfield, AL, as the first-born to Dr. William Pierre Robert and Edith Kirkwood Robert. Marie's early years were spent in Vicksburg, MS, and Lexington, VA, before the family settled in Beaumont, TX, where her father built a prominent pediatric practice. She attended the University of Texas (Theta), then graduated from Randolph Macon College in 1947.

While finishing her studies, Marie met and married recent Washington & Lee graduate Mitchell I. Lewis in Lexington, VA, in the summer of 1949. The couple then journeyed west to relocate in Dallas, TX, where they started a family and assimilated into the bustling advertising scene. While raising (3) children, she made time to earn a Masters degree in English at UNT and taught high school English at RL Turner HS in Carrollton, TX. Following a divorce, Marie met and married local real estate speculator William W. "Bill" Fisher. The couple enjoyed an exceptional life together that included worldwide travel, recreation, and many shared experiences with a treasured circle of friends and family. Along the way, Marie weathered various setbacks in her life with unusual courage and grace, and was always eager to help a friend or family member in need.

A loyal dog-lover, Marie was an active supporter of local rescue and pet-adoption centers. She also maintained memberships in local philanthropic and social organizations, including Brook Hollow Country Club where she excelled on the tennis courts and card tables. Marie was a lover of literature and a voracious reader. She participated in multiple writing workshops, book clubs, and various cultural offerings in order to satisfy a perpetual desire to learn and experience all that life had to offer. Marie was an ardent supporter of the Dallas Cowboys (win or lose) from their formative years in the Cotton Bowl and a sucker for any fried offering at the State Fair of Texas.

Marie was all about family, never missing the annual summer pilgrimage to the luxurious, seaweed-laden shores of the Bolivar peninsula in southeast Texas, which was her favorite travel destination. She was the mastermind and organizer of all family gatherings for holidays and special occasions, and in her later years, would retreat to her hideout in La Jolla, CA, to escape the summer heat.

Marie Fisher was pre-deceased by William W. "Bill" Fisher, her loving husband of 37 years, and her beloved sister-in-law, Patricia Swift Robert. In addition to a wealth of extended family members and close friends, she is survived by her brother, Dr. William Pierre Robert, Jr., of Beaumont, TX; children: Cavett Hughes of Austin, TX, Mitch Lewis (Cindy) of Dallas, TX, and Robert Lewis of New York City, NY, ; stepchildren: Dr. Laura Fisher (Bob) of Providence, UT, Wilson Fisher (Catherine) of Hunt, TX, Devon Stokhof de Jong (Jules) of Santa Fe, NM; and Tony Toro (Pam) of Dallas, TX; grandchildren: Seejack Hughes, Maria Woods (Jason), Quentin Hughes (Lisa), Dr. Taylor Lewis (Erin) and Riley Hill (Austin); great-grandchildren: Wade Woods, Garret Woods, Lewis Hughes, Miller Hughes, Lucy Lewis, Bowie Hill and Emma Lewis; and special "cuz" and traveling companion, Carol Robert Armstrong of St. Louis, MO. The family also wishes to express their gratitude and appreciation to Marie's best friend and caretaker, Marie Pascua of Dallas, TX.

Marie was so loved and respected by her family and friends. We will forever miss her kind heart, beautiful smile, great sense of humor and genuine interest in others. A memorial service will be held at 2:00 PM, on Saturday, January 22, 2022. at the Bill Sparkman Memorial Chapel located at 7405 W. Northwest Hwy, Dallas, TX 75225. Memorials may be made in her name to Operation Kindness, 3201 Earhart Drive, Carrollton, TX 75006, or the Alzheimer's Association, 3100 Knox Street, Suite 200, Dallas, TX 75205.
LINKS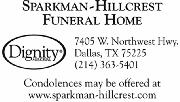 The Dallas Morning News Obituaries
http://www.dallasmorningnews.com