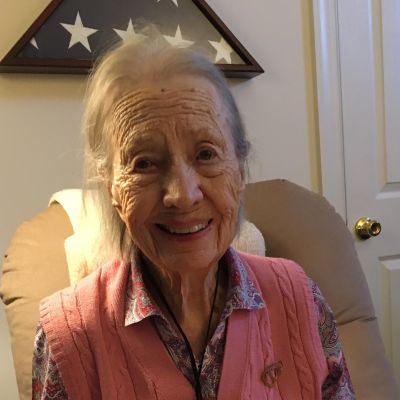 Margaret
Iredell Hodges
Kunkel
What do you remember about Margaret? Share your stories and photos here, and invite others to come share their memories.
NASHVILLE - Margaret Iredell Hodges Kunkel passed away on Monday, December 21, 2020. She was 101 years old and died of natural causes at home in Nashville, NC, surrounded by family members.

Margaret was born in Scranton, Hyde County, North Carolina on October 10, 1919. She was the daughter of Johnnie Dewey Hodges Sr. and Myrtis Vivian Harris Hodges, both natives of Hyde County and late of Pantego, NC. Margaret's roots in Hyde County, on the North Carolina Outer Banks, and in Virginia all stretch back to the 17th century.

Margaret was the eldest of four children and spent her early years in Scranton where her father was a farmer/fisherman. Her uncle Ralph Hodges was the boat builder of the historic skipjack the Ada Mae, which has been meticulously restored and is now docked officially in Washington, NC. After she finished grade school, Margaret's family moved to Washington, NC so she could attend high school there. After graduation she moved to Baltimore where several of her mother's sisters lived. In Baltimore, she met her husband Richard Jay Kunkel, and they were married at Baltimore's St. Johns United Methodist Church on December 5, 1942 when Dick had a several-day pass from the Army. Margaret only had time to find a blue street-length dress for the wedding, then they took the train to New York City for a brief honeymoon.

After WW II Margaret and Dick moved to Woodcliff Lake, NJ. Dick worked in NYC for the American Petroleum Institute, and Margaret worked in accounting at a local firm until she had children. She was a loving, inspirational mother who served as Brownie and Cub Scout leader and always encouraged her two children to get plenty of Girl Scout and Boy Scout merit badges and good grades at school. Her daughter Jean is eternally grateful for all the papers mother typed for her in high school and the beautiful clothes mother expertly sewed for her even after she left for college. Margaret and Dick were active members at the Pascack Dutch Reformed Church in Park Ridge, NJ. Dick served on the church board, eventually becoming its Chairman. Margaret taught Sunday school for many years, became President of the women's Guild and served as its representative on the World Council of Churches. Dick served as a commanding officer in the NJ Army Reserve and also the NJ National Guard when the organizations merged. Margaret returned to corporate accounting when her children got older.

In 1970, Margaret and Dick moved to Kensington, MD when the API relocated from midtown Manhattan to "K Street" in Washington, DC. Margaret worked as an accounting assistant at Marriott Corporation's headquarters offices in Maryland until she retired. The couple were active members of North Chevy Chase Christian Church in North Chevy Chase, MD, where Dick served more than once as Chairman and chaired a renovation and building project.

In 2001, Margaret and Dick moved to Nashville, NC to live next to their son Rick and his family. They were members of Rock Creek Baptist Church in Nashville.

Margaret was predeceased by her husband Colonel Kunkel in 2011. She is survived by son Richard Hodges Kunkel (Carol Williamson Kunkel) of Nashville and daughter Jean Kunkel Wieler (Jeffrey S. Wieler) of Athens, GA; grandchildren Charlotte Marie Kunkel Strickland (Jason Strickland) of Bailey, NC, Elizabeth Ann Kunkel of LaPlata, MD, and Richard Williamson Kunkel (Amanda Webb Kunkel) of Walstonburg, NC; and great grandchildren Olivia Renee Greene, Keali Elizabeth Kunkel and Richard Brayden Kunkel. A sister Irma Hodges Sadler of Enka, NC, and brothers Joseph Al Hodges Sr. of Washington and Pantego, NC, and Dr. Johnny Dewey Hodges Jr. of Wilmington, NC, predeceased Margaret.

On her 100th Birthday when asked 'what's the secret to making it to 100 years old', Margaret's simple answer was "be kind".

Due to the COVID-19 Pandemic, an interment for the family will be held on Tuesday, December 29, at Forest Hills Cemetery in Nashville, NC. Gifts in Memory of Margaret may be sent to Nash UNC Healthcare Foundation (Hospice) or the Hyde County Historical Society, Swan Quarter, NC.

Arrangements entrusted to Johnson Funeral Home & Cremation Services, 661 English Road, Rocky Mount, NC 27804. You may share memories and condolences with the family by visiting www.johnsonfuneralsandcremations.com.
LINKS
Johnson Funeral Home and Cremations Services
The Nashville Graphic
http://www.nashvillegraphic.com