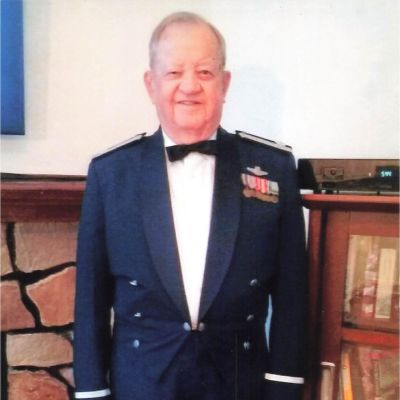 LTCOL John
A.
Means US Air Force (Ret)
How do you know LTCOL John? Please share your stories and photos, and help spread the word about this page!
LTCOL John A. Means US Air Force (Ret.), 101, of Summerville, husband of the late Wilma Ashworth Means, passed away on April 13, 2020 at Lexington Medical.

All services will be private.

In lieu of flowers, memorials may be made to Shriners Hospitals for Children at www.shrinershospitalforchildren.org, Alzheimer's Association at www.alz.org, or AirForceAid Society/The Official Charity of the Air Force at www.afas.org.

John was born on a farm in McLouth, Kansas on December 11, 1918. He was the son of the late Charlie and Jenny Means. In his lifetime he witnessed many remarkable social changes, technological advancements, and international developments that have transformed the world. He enlisted in the US Army Air Corp in 1942 and become a pilot in 1943. He was an instructor in advance flying school in Texas. He was a squadron commander overseeing some 2,000 basic trainees. On October 3, 1944 he married his beloved wife Wilma Ashworth Means, and together they had three children. In 1950 he was called to active duty and was deployed to Korea as part of the 6147th squadron, known as the Mosquitoes. John served in Washington DC with the Special Air Missions (SAM) unit, flying dignitaries at home and abroad in Air Force Two. During his time in the SAM outfit he flew many dignitaries including Herbert Hoover alive and carried his body to his final resting place, Richard Nixon, as vice president, and the notable Charles Lindberg. During Vietnam he flew cargo transports. While stationed in Charleston he flew C130s all over the world. He then retired from the military in 1965 with the rank of Lieutenant Colonial and moved his family to Summerville, SC. After returning to civilian life he worked as a mechanical engineer at Avcco and as a machine operator at Bosch. He owned and operated his own service station. John worked as a salesman with Hawthorne Aviation. He also flew as a private pilot for several local companies. He served his community as a member of the Masons for over 75 years, Scottish Rite, Shriners, and president of the Lions Club of Summerville. He also served on the board of Directors as Vice President of Charleston Mental Health and was an active booster of the Summerville High School Marching Band. He was a founding member and Elder of Dorchester Presbyterian Church. After his wife, Wilma's, passing he was blessed to find another love in his companion Maureen.

Survivors include: Companion and love of his life for the past 10 years, Maureen Gibbons of Rockland, MA; his daughters: Jodi Means Weathers (Bert) of Columbia and Donna Means Fox (Keith) of Winnsboro; seven grandchildren: Jeremy Good (Angela) of Mt. Pleasant, Natalie G. Sumner (Brian) of Mt. Pleasant, Chesley Good (Alyssa) of Columbia, Lindsay Means Domrese (Chris) of Charleston, Carson Fox (Gina) of Greenville, Carey Weathers Warner (Ralph) of Charlotte, NC, and Luke Weathers of St. George; eight great grandchildren: AnnaClaire and Miller Good, Peyton Sumner, Delaney Rutledge Good, Finnley and Kessler Domrese, Tyler and Tanner Warner, and Drake Weathers; seven nieces and nephews: Lucille Smith, Betty Petrie, Mary Petrie, Larry Means, Jim Means, Sharon Farmer, and Ruth Diller; and Maureen Gibbons daughters: Dawn(Bob) and Laurie(Stephen); five grandchildren: Joseph, Jackie(Keith) and Sarah Campbell, Daniel and Brendan White; two great grandchildren Kaiden and Carter Hawkins. In addition to his beloved wife Wilma and his parents he was predeceased by: son, John "Steve" Means; great grandson, Leighton King Good; sister, Mildred Means Petrie; brother, Barney Means; and three nephews: Sam Petrie, John Petrie, and Jim Petrie.

A memorial message may be written to the family by visiting our website at www.jamesadyal.com.

ARRANGEMENTS BY JAMES A. DYAL FUNERAL HOME, 303 SOUTH MAIN STREET, SUMMERVILLE, SC 29483 (843)873-4040.
LINKS
The Oskaloosa Independent
http://www.jeffcountynews.com