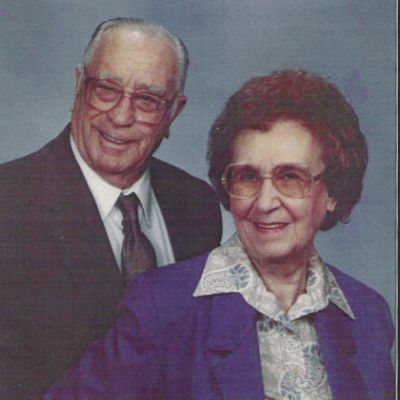 Lolene Stapley
Schenck
Dear Mom, I miss you
Obituary: Lolene Stapley Schenck

Published: February 10, 2004 12:00 am

Updated: Feb. 10, 2004 4:22 p.m.

+ Leave a comment

"Together Again"

Lolene Stapley Schenck died peacefully February 7, 2004.

She was born February 2, 1917 in Paragonah, Utah to William Francis and Lucy Ann Stapley.

She married Russell T. Schenck in Los Angeles, California on October 16, 1937.

He preceded her in death Feb. 18, 1993 after 55 wonderful years of marriage. Russell and Lolene lived for over 50 years in their wonderful old adobe home in Provo. Winter months were spent in Arizona with their numerous friends from around the country. Lolene was a member of The Church of Jesus Christ of Latter-day Saints.

She worked at The Barbizon of Utah where she retired after a stroke. Lolene was a devoted wife, mother, grandmother and great-grandmother and brought great joy into the lives of her family and many friends.

Lolene is survived by her two daughters, Gail Tripp (Jess) of Las Vegas, NV; Barbara Tarran (Robert) of Salt Lake City; son, Kent Schenck (Christy) of American Fork. Her son, Gary Russell Schenck, Preceded her in death June 13, 1994.

She is beloved by her 15 grandchildren, Sandy McKinnon (Troy), Lisa Rouse (Charlie), Rick Hawkins (Beckie), Thomas Wyman Berg, Jr. (Rene), Joshua R. Berg (Kira), Bret Laino (David), Brad Tarran, Brooke Tarran, Trenton Schenck, Shannon Schenck, Jared Averett, Austin Averett, Ryan Schenck, Stacie Overly and Shaun Overly as well as her 10 great-grandchildren, Carly McKinnon, Erica McKinnon, Lindsey Roush, Houston Roush, Jake Roush, Levi Rouse, Quinton Hawkins, Calvin Hawkins, Alexander R. Berg and Halle Marie Berg.

The viewing will be held on Wednesday, evening, February 11 from 6-8 p.m. at Berg Mortuary, 185 East Center Street, Provo, Utah. Funeral services will be held at Berg Mortuary, 185 East Center Street, Provo, Utah, on Thursday, February 12 at 11:00 a.m.

Friends may call one hour prior to the service. Interment, Provo City Cemetery.

Like that? Read this.