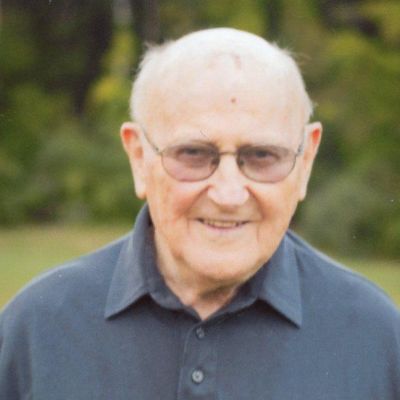 Lloyd
M
Wilson
What do you remember about Lloyd? Share your stories and photos here, and invite others to come share their memories.
Lloyd Merrill Wilson, 93, of 2 Bessie Avenue, Claremont died peacefully Tuesday, February 16, 2021 surrounded by his loved ones. Lloyd was born in Woodsville, NH on February 10, 1928, the son of Charles T. Wilson and Ruth E. (Ware) Wilson. He was raised in East Rygate, VT for 12 years, resided in Claremont since 1940 and graduated from Stevens High School in 1946. He was a veteran of World War II and the Korean Conflict having served in the US Army.

He worked at the Dartmouth Woolen Mill for 18 years and retired in 1990 from Lovejoy Tool Co. in Springfield, VT where he worked as a machinist for 23 years.

He was a member of Grace River: A Life Giving Church, member of the Charlestown Memorial Veterans of Foreign Wars post #8497, the Sullivan County Sportsman, and a former member of the Rod & Gun Club, the Mantowa #40 N.A.F.C.A. and the Circle 8 Square Dance Club.

His wife, love of his life, Vera Belle (Larcom) Wilson of Claremont whom he married on October 7, 1950, preceded him in death.

He was a loving father to his son, Terry Scott Wilson, Fianc? Trish Royce, his daughter Donna Lee (Wilson) Neider, son-in-law Rodney Neider and daughter-in-law Jennifer (Bodwell) Wilson.

His parents, loving brothers Roger D, Wilson 2002 and Francis Wilson in 1989, son Timothy Merrill Wilson, May 29, 2006, his loving daughter Debra Lynn (Wilson) Corcoran, March 20, 2017, son-in-law Stephen Jon Corcoran, February 15, 1993, Daughter-In-Law Dona Lynn (Hershel) Wilson, April 24, 2004, also preceded him in death.

He is also survived by his sister, Nancy (Wilson) Robitille and sister-in-law Stella (Ferland) Wilson; grandchildren, Jeremy and Andrea Wilson, Fawna and Keith Moore, Tonia and Robert Maccioli, Misty and Michael Boutin, Heather and Matt Gfroerer, Brandon and Meghan Wilson, Valerie and Michael D'Aloia, Michael and Christine Corcoran and Molly and Stephen McManus. Lloyd was also blessed with many great grandchildren, nieces, nephews, great-nieces, great nephews, and even great-great nieces.

Lloyd was a loving and supportive husband, dedicated father and kind-hearted friend. Lloyd enjoyed the outdoors, hunting, fishing, bird watching, New England sports, card games, board games, dancing and woodworking: making board games, butterflies, popsicle stick spinners, large bald eagles with wings that moved and much more. He also enjoyed traveling (winters in Florida, visiting friends in Maine, or adventures like an Alaskan cruise or Anniversary celebration in Hawaii). He was the Patriarch of his family and exemplified how to be selfless and kind, yet strong and honorable. Lloyd did everything with purpose. Whether it be a gift or kind word, he always made you feel loved.

Lloyds unwavering faith and positive outlook inspired many. Though the sadness and loss here on earth are deep and profound, we rejoice in knowing he has eternal life.

Visiting Hours, all are welcome, will be held on Friday, February 19, 2021 from 4 p.m. to 7 p.m. at Stringers Funeral Home, 146 Broad Street in Claremont, NH.

Funeral Services will be held on Saturday, February 20, 2021, 2 p.m. at the Grace River: A Life Giving Church, 56 Main Street Claremont NH with Pastor Kyle Allen Officiating.

Due to COVID19 and capacity restrictions for the Church; only family will attend in person. We ask that those that would like to attend the funeral watch via LIVE STREAM.

http://mygraceriver.life/lloydwilson or http://youtube.com/gracerivernh

Burial will follow at the West Claremont Burying Ground, all are welcome.

In Lieu of flowers, donation may be made in honor of Lloyd Wilson to one of the following two places, checks payable to Grace River addressed to 56 Main Street Claremont, NH 03743 or check payable to Claremont Senior Center addressed to 5 Acer Heights Claremont, NH 03743.
LINKS
Stringer funeral home
https://www.stringerfh.com

Valley News of Lebanon
http://vnews.com