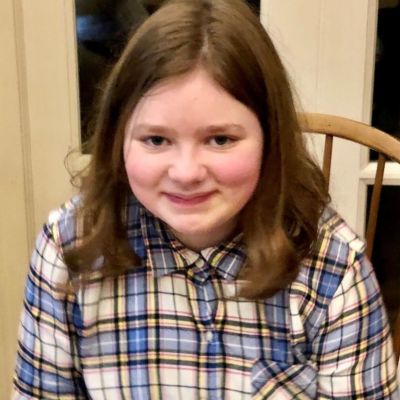 Lillie
Cowan
How do you know Lillie? Please share your stories and photos, and help spread the word about this page!
Lillie Swaffield Cowan, 15, of Charlotte NC passed away peacefully at home with her parents by her side on Friday, July 2nd, after a courageous 26 month battle with diffuse intrinsic pontine glioma, a fatal pediatric brain cancer.

Lillie was born on December 27th, 2005 to Georgina "Jo" Burrows Cowan and William "Will" Swaffield Cowan, Jr., the second of three beautiful daughters born within five years. Lillie was a true "Latin Lifer" and attended Charlotte Latin School from Kindergarten through 9th grade. Despite her worsening health she was delighted to start high school last August. She loved learning, and continued to attend school from her hospital bed as long as she was able. She especially enjoyed English, History and Art.

Lillie was a true creative spirit and a lover of the arts, from theater to sculpture, painting, literature and music. She played the piano and the double bass, and enjoyed acting and dancing in school plays and musicals. She especially loved sculpting, and her Motorcycle Taco Dragon perfectly illustrated her wild imagination.

Lillie embraced life enthusiastically. She was a friend to all animals, especially pigs. She loved Japanese culture, and was excited to visit Tokyo before her death, where she roamed the local fish market sampling the most unusual delicacies she could find. Her love of life was infectious and she was responsible for all of her family's wildest adventures, from Monster Truck Rallies, to underwater cave snorkeling, to stargazing in the Australian Outback. She loved winter, the beach, the Food Network, anything Christmas, water gun fights on the Fourth of July, creating new, inventive recipes, and her stuffed animals. In fact, she loved almost everything except grilled cheese sandwiches. For some unknown reason those never made it onto her approved list.

Lillie was devoted to her friends, and loved spending time with them. She especially enjoyed returning each summer to Camp Greystone, which helped nurture her beautiful Christian faith. Lillie had a unique combination of intelligence, compassion and fierce independence, as well as courage beyond bounds. Despite being handed the cruelest card she never complained about her diagnosis or her treatment. She bravely endured what no child should ever endure, and kept on smiling, trying new adventures, and creating as long as she could. Lillie lived every day she was given, and she will be sorely missed. As one of her teachers remarked, "She had such clarity in how she saw the world. She owned who she was, embraced those whom others disregarded, and strove each day to be fully in the moment and without reservation. She was brilliant in so many ways, and my life is better for having known her."

Lillie's greatest joy was being with her family. In addition to her parents, she is survived by her sisters Isabelle Grace Cowan and Susannah McCall Cowan, of Charlotte, NC, her paternal grandparents, Johnnie and William Swaffield Cowan, of Pawleys Island, SC, her maternal grandparents, Suzanne and Brendan McInerney of Charlotte, NC and Linda and Joseph Brian Burrows, of W. Yorkshire, England as well as numerous beloved uncles, aunts, cousins, and friends.

A private funeral for family will be held at Christ Church on Friday, July 9th at 11am. The service will be live-streamed at http://www.christchurchcharlotte.org/funeral-live-broadcast/. A celebration of life will be held in September to which all will be invited. In lieu of flowers, please consider a donation to one of the two charities Lillie designated: The Preston R. Tisch Brain Tumor Center at Duke or RoofAbove.org.

The family would like to extend their heartfelt gratitude to Dr. David Ashley, Dr. Nicole Larrier, and the pediatric neuro-oncology team at Duke. They would also like to thank Dr. Chad Jacobsen at Atrium Health, Dr Leo Wang and Dr. Shilpa Shahani at City of Hope, and staff at Novant Health and Kids' Path Hospice for their exceptional care of Lillie over the last two years. They are deeply grateful to their family, friends, the Christ Church and Charlotte Latin communities, Cancer Partners of the Carolinas, the Make a Wish foundation and all who provided endless support and encouragement throughout Lillie's journey. Robertson Funeral & Cremation Service is serving the family.
LINKS

Robertson Funeral & Cremation Service

The Post & Courier serving Georgetown
https://www.postandcourier.com/georgetown/obituaries