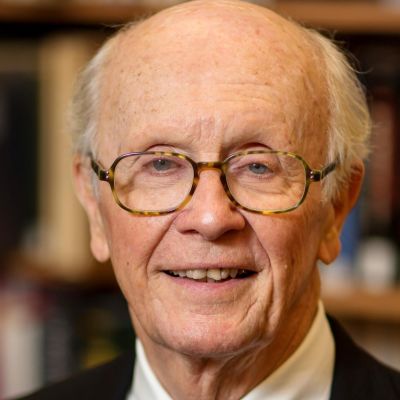 Leland
Speed
Help us celebrate Leland! Please share your stories and photos, and invite others who remember Leland.
Leland Rhymes Speed, age 88, died peacefully while surrounded by family on Wednesday, January 27, 2021 after a year long battle with ALS. Born September 13, 1932 in Jackson, he was the eldest child of Leland Speed and Katherine Rhymes Speed.

Leland was blessed with a rich life marked by service to his community and to his fellow man, positively influencing many along the way; his impact will reverberate for a long time to come. He loved God and embodied the notion of "the humble servant", setting an example for those who spent any time around him. He enjoyed a fifty-nine year marriage to his beloved wife, Bessie Sarphie Speed, and was a hero to their three boys, Stewart, Forrest and Warren. Leland, truly a gift to so many, left an indelible mark in his time in this world.

Leland's eternal optimism was evident at the tender age of five as he partnered in a front yard Coca Cola stand despite not really knowing how to calculate a profit. This same optimism, along with considerable business acumen, helped Leland pioneer the modern REIT (real estate investment trust) industry beginning in the late 1970's. He was founder of two New York Stock Exchange traded companies, EastGroup Properties and Parkway Properties. His hallmark as a business leader was having devoted employees as they knew they could count on "being heard and appreciated". Leland attracted an incredible group of people to work with, always hiring folks "smarter than him", and he is eternally grateful for these relationships and the business success they were able to achieve together.

Leland graduated from Central High School in Jackson in 1950 and then went to Georgia Tech site unseen ("for the challenge"), graduating in 1954. After serving in Air Force intelligence, he proceeded to Harvard Business School where he graduated in 1958. After graduate school, Leland moved back to Jackson, joining his father, former mayor of Jackson, Leland Speed Sr. (aka "Pappy"), in the securities business. The two Speeds also worked in the real estate business, developing the Eastover subdivision in northeast Jackson. Leland's passion for community and civic involvement took off; he, along with three of his contemporaries, helped found Northminster Baptist Church in 1967, saying "are we going to talk about it, or are we going to do something about it?". He taught Sunday school at Northminster for forty-five years. He helped found Downtown Jackson Partners, and his companies contributed greatly to the development of downtown. Leland enjoyed long time service on the Mississippi College board of trustees as well as on the Jackson State University Foundation. His service to community culminated in a stint as executive director of the Mississippi Development Authority under Governor Haley Barbour. At MDA, where Leland worked for $1 per year, he helped formulate plans for Gulf Coast recovery after Hurricane Katrina. Leland also helped pioneer the charter school movement in Mississippi with RePublic Schools, improving the lives of so many children and families just looking for an opportunity. He held leadership roles in numerous other civic organizations, devoting countless hours to the betterment of the community. Leland was passionate about Jackson and Mississippi, and it showed in his decades of service.

Leland was a voracious reader and would sometimes assign reading (and book reports) to unsuspecting employees, colleagues, friends and family members. He was a student of human nature, inheriting this interest from Pappy, often telling (and re-telling) "Pappy says" stories to the delight of his audience. Life was about relationships, according to Pappy (and Leland) such that "hell wouldn't be half bad with the right crowd and plenty of ice water!" (Disclaimer: Not his theological belief). Bessie and Leland's lives were enriched by relationships with friends around the state, the country and the world; home away from home, Highlands, NC, will always hold a special place in their hearts. Full of good humor, and blessed with good health most of his life, Leland joked that, just prior to the ALS diagnosis at age 87, he was the "star" of his yoga class. Leland knew that he was blessed beyond measure and took the ALS diagnosis in stride ("I'm 88 years old, what the hell do I have to complain about?!"). Litter was his enemy. He could be seen picking up stray trash on Capitol Street, and his boys would pile out of the car (cringing) on the way in to church at Northminster to "police the area". Leland always had incredible energy; he was, naturally, working his "to do list" until the day he entered the hospital just prior to his passing. His smiling face and upbeat demeanor in his waning moments amazed the hospital staff and will be cherished by so many!

Leland is survived by his loving wife, Bessie Sarphie Speed and their three boys Stewart, Forrest (Mary Kelly) and Warren (Marla) and nine wonderful grandchildren: Collins, Isabelle, Warner, Bennett, Elizabeth, Graham, Preston, Mary Locke and Katherine. He is also survived by siblings Shelly, Joe (Nancy) and Lake (Rice). He is predeceased by his parents and younger brother James. The family would like to give special thanks to all the many caregivers who cared for Leland during the latter stages.

On Saturday, February 6 at 11:00 a.m., a memorial service will be held at Northminster Baptist Church in Jackson followed by an inurnment in the columbarium at Northminster. The memorial service will be live-streamed at https://northminsterbaptist.org/watchlive/. Due to COVID-19 restrictions, actual attendance at both services will be limited to family members.

In lieu of flowers, the family requests that you consider a tax deductible donation made to RePublic Charter Schools in Jackson, MS. Please go to www.republiccharterschools.org/donate and click on RePublic Schools Jackson or mail a donation with check to:

Smilow Collegiate

Attn: Kemi Alara

787 E. Northside Drive

Jackson MS 39206

And note "Leland Speed/Jackson Schools".
LINKS
Wright & Ferguson Funeral Home

The Wall Street Journal
https://www.dowjones.com