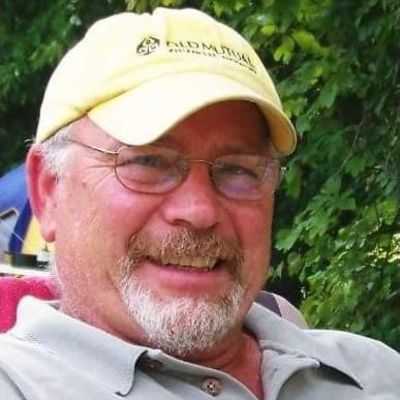 Larry
Paul
Wray
Join us in celebrating Larry—please share your stories and photos, and help spread the word about this page!
Morgantown, IN - Larry Paul Wray, 75, of Morgantown, IN, passed away at 5:45 am on Sunday, August 15, 2021, at Brown County Health Community Living in Nashville, IN.

Born October 9, 1945, in Bedford, he was the son of Paul and Eula (Blanton) Wray. He graduated from Shawswick High School with the class of 1964 and attended Vincennes University. He married Marcia Peters on September 18, 1987 and she survives. He owned and operated Wray Produce in Morgantown, a business he had taken over from his father, and retired from in 2017. He was a member of the Nashville Salvation Army Church and was a faithful bell-ringer in the coldest of winter. To say he loved playing golf is an understatement. Although he was not great at the sport, the time that he spent with his friends were such precious moments for him. He had a passion for art and was an amateur painter. He also loved thrift stores. Every Saturday, family would gather at the warehouse where he would spoil all his grandchildren.

Survivors include his wife, Marcia; a son, Derek Wray and wife, Priscilla; a grandson, Colt Wray; step-granddaughter, Adrian Collins, all of Bedford; a daughter, Tiffanie Wray Bennett, of Bedford; granddaughter, Jordan McCloud and husband, Darren; two great-grandsons, Riley Reynolds and Chris McCloud, all of Bedford; his first wife, Penny (Hedge) Hensley; a step-daughter, Dana Peters, of Nashville; step-granddaughter, Allison Johnson and husband Ryan; three step-great-grandchildren, Alana, Arie, and Addison Johnson, all of Nashville; step-son, Dwain Peters and wife D'Ann, of Bedford; step-granddaughter, Haley Blankenhorn and husband, Sam; step-great-grandchild, Lily, all of Lawrenceville; several nieces, nephews, and cousins. He was preceded in death by his parents, paternal grandparents, one brother, Michael Wray; two uncles, Jerry and Billy Wray; a son-in-law, Danny Bennett.

Graveside services will be conducted at 2:30 pm on Friday, August 20th at Fairview Cemetery. Visitation will be from 1:00 pm to 2:00 pm on Friday at the Day & Carter Mortuary. Family and friends may express condolences at www.daycarter.com.
LINKS


Brown County Democrat
http://www.browncountyindiana.com