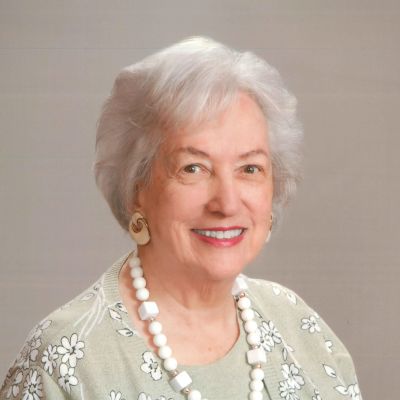 L. Arlene
Vickers
What do you remember about L. Arlene? Share your stories and photos here, and invite others to come share their memories.
Arlene Vickers

Lois Arlene Vickers was the third daughter of Thompson Houghton Euwer and Lois White Euwer. She was born in Topeka, Kansas, August 18, 1927. She passed away peacefully in the early hours of September 12 at St Francis hospital in Topeka after a short illness.

Arlene attended Topeka schools, Topeka High and Washburn University. She was a life member of the Topeka High school Historical Society and was a member of the Alpha Kappa Chapter of Delta Gamma.

She met her future husband, Ernest Newton Vickers, at Topeka High School. They were married on June 6, 1947 after his return from WWII service. They shared a partnership and life-long adventures for 52 years until his death July 7, 1999.

They enjoyed dear friends and being involved with their community, neighborhood and church. Newt and Arlene traveled extensively and spent much family time with their daughters and their families: Valerie Vickers (Paul Mitchell) Mathews, NC, Laurie Tenbrink (Mike) Burlingame, KS, and Allyson Leland (Bob) Lawrence KS. They also took up golf in later years which they enjoyed in spite of their scores.

Arlene had many interests and had a variety of careers. She worked at the Topeka Allergy Clinic, as a Realtor with Kirk and Co and became the Director of Volunteer Services at St Francis hospital until her retirement in 1985.

First United Methodist church played an important role in Arlene's life. She and Newt hosted small groups in the 1960's and she was an original member of the Wesley Weds Sunday school group. Music was a great joy for Arlene and Newt and they were both proud members of the First United Methodist Church choir until Newt's death. Arlene continued to be active in the choir for many years afterward singing well unto her 80's. She also performed with the Shawnee Choral Society for many years. In recent years Arlene enjoyed listening to Sunday services online.

Arlene always thought of herself as a farmer at heart. She was happy to be out working in the dirt and was often known to run out to the garden for "just a moment" only to return with dirt on her clothes or a torn stocking from weeding or picking produce.

She was an avid reader and would read several books a week. She enjoyed sharing books with friends and in later years she downloaded books onto her iPad from the Topeka Public Library so she always had a book on hand.

Arlene's real love was her family. She took great interest in her grandchildren and great grandchildren: Tanner Tenbrink (Jamin) and their children; Addyson, Dylan and Zander of Lawrence, KS; Tyler Tenbrink, (Katie) and their children, Brody, Harper, Eli and Nathan of Auburn, KS; Hansen Grider (Betsy) of Charlotte, NC and their children Haskell and Sage; Arden Leland of Seattle, WA and Alex Leland of Lawrence, KS. Grammy Arlene treated the family to many wonderful summer vacations at the beach in North Carolina and Alabama. Her family greatly anticipated these vacations under one roof. We often vowed not to go again - but then she would say "What do you all think about another trip to the beach?" and the family would eagerly begin planning the next adventure.

Arlene was frugal, independent, strong willed and not your typical Mom. She was a planner - always ready with a sketch for renovation of house or garden. She handled the family finances, owned rental properties and worked jobs outside the home. She was not afraid to work hard and stayed active with swimming, house and yard projects and gardening. She was our "rock" and a great role model for all of her family. She taught and encouraged her children, grandchildren and great grandchildren to handle their finances; and most of all, to save for the future. She watched business news and everyone knew not to call her during her financial shows. In her later years she embraced technology - keeping up with old friends and neighbors on Facebook and enjoyed games and books on her iPad. She took great pleasure in playing bridge and played with several groups over the years. She greatly enjoyed socializing in her neighborhood.

Arlene was preceded in death by her parents; Thompson and Lois, her in-laws: Frank and Fern Vickers, her sisters: Rachel Clark (George), and Martha Stydahar (Pete) and her husband, Newt Vickers.

Memorial Services with be at First United Methodist Church on Saturday, Oct 2 at 10 am, graveside services will immediately follow at Mount Hope Cemetery. The family will greet friends thirty minutes prior to the start of the service. In lieu of flowers Arlene would prefer memorial contributions made to the First United Methodist church.

To leave a message for her family online, please visit www.PenwellGabelTopeka.com.
LINKS
Penwell-Gabel Mid-Town Chapel
http://www.penwellgabeltopeka.com
Lawrence Journal-World
http://www2.ljworld.com