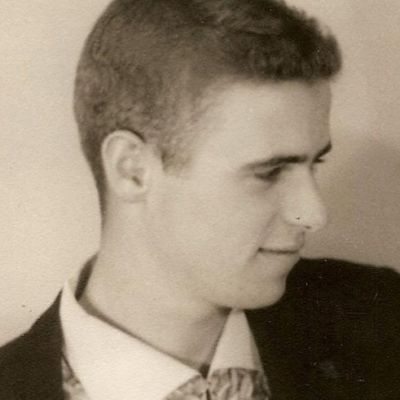 Kenneth
Lee
Pierce
Help us celebrate Kenneth! Please share your stories and photos, and invite others who remember Kenneth.
Ken Pierce, beloved husband and father, and a geologist and scientist to his very core, died peacefully in Bozeman on July 9, 2021, after a decade of living with Parkinson's disease. Just days earlier, he had been able to make a final trip through the Yellowstone northern range, where his long career in Rocky Mountain geology had its heart, and on to the family cabin by the Clarks Fork River. Having made this final pilgrimage, his family believes he chose to let go of life. We are grateful to his physicians, Drs. Herring and Knappenberger, his physical therapist Rich Danielson, and the kind people at Spring Meadows. Charitable donations in honor of Ken can be made to the Gallatin Valley Land Trust or the Greater Yellowstone Coalition. The family anticipates a memorial service will be held in the fall.

Ken was born in Washington, DC on October 21, 1937, where his father worked for the US Geological Survey. During the summers, the family packed up and drove to field study areas in the mountains west and north of Cody, WY, where Ken's father studied one of the great enigmas of Rocky Mountain Geology - the Heart Mountain Fault. Ken imprinted on the Northern Rockies. Despite his front row seat to his father's unraveling the clues to the cataclysmic past that underlies the rugged modern landscape of the Cody country, geology was the one field he was certain he would avoid. Winters in DC were focused on school, Boy Scouts, and music. Growing up with two strong-willed, somewhat irascible parents, Ken and his sister Diane let his older brother Bill carry the weight of parental ambitions and adopted a softer-spoken approach to life, often avoiding the limelight despite their talents. One day a dark-haired girl named Linda Weston took note of Ken as he played taps on his bugle at Woodrow Wilson High School. Ken soon took note of her as well. Although Ken went to Stanford, and Linda went to Smith College, they wrote letters and enjoyed summer adventures such as hiking from the North to South Rims of the Grand Canyon. Linda remembers the hike down to Phantom Ranch and up the other canyon wall as a kind of audition for the role of geologist's spouse, a role which she played with mostly good grace for 61 years. They married in 1960 when Ken was a geology graduate student at Yale. Andrew was born in 1961. Ken finished his Ph.D. in 1963 and began his US Geological Survey career mapping river terraces in Kentucky, where Daniel was born in 1964.

In 1965, Ken got a fateful phone call with an invitation to move to Denver and join a team of geologists mapping Yellowstone Park. The decision was instantaneous. He tied the crib on top of their VW Bug, packed up the 2 kids, the dog, the cat, and all their earthly possessions, and the young family headed west to Ken's field area on the upper Gallatin River in Montana.

Thence began the Colorado years, with a home on Lookout Mountain where Jennifer came along in 1972. Ken read to the kids every night (as long as his back was constantly scratched), and the family camped out summers in his field areas, hiked, skied, and thrived. He was a leader in the community, from the Unitarian Church to the Clear Creek Land Conservancy and neighborhood associations, and a skilled athlete. He taught the Lookout Mountain kids to ski at the local hill, played tennis, and was the setter for a championship volleyball team. He continued to hike, cross-country ski and mountain bike even after developing Parkinson's disease.

During the summers from the mid 1960's onward, Ken mapped the extent of the Bull Lake and Pinedale glaciations of Yellowstone, when much of the current landscape was covered in thousands of feet of ice. Ken was a classical field geologist, working on foot and on horseback. He liked to have his eyes on the rocks and soils, a hammer in his hand and a hand lens around his neck. His landmark study of the dynamics of the northern Yellowstone ice complex received the Kirk Bryan Award from the Geological Society of America. His paper, which Ken called "a story in excruciating detail," is a fine example of the synthesis of comprehensive field observations into a conceptual model, in this case unveiling of the dynamics of glaciation in greater Yellowstone and by extension the western U.S. He showed how the Yellowstone ice cap was so deep and extensive that it shaped its own weather and thus molded its own future footprint.

While Ken's roots were in geomorphology - how the surface of the earth came to its present form - Yellowstone contained deeper mysteries that came to the forefront in his later career. Together with his colleague Lisa Morgan, Ken provided evidence of volcanism, accelerated movements of range front faults, and uplift of the crust of the earth along a path from modern-day Yellowstone west and south through Idaho's Snake River Plain towards the Nevada/California/Oregon border. They showed how the volcanism and fault activity had their onset in the more distant past as the distance from Yellowstone increased. This was the track of the Yellowstone Hotspot, an initially controversial but increasingly well documented hypothesis that a plume of molten rock arising from deep within the earth has heated, deformed, and erupted through the overlying continental crust as North America drifts west and south above it. Ken refined the concepts and data on the hotspot, which makes Yellowstone what it is, through 25 years of publications. He continued to think about the hotspot and its impacts on topography and glaciation up to the week before his death. Along with his many publications and vast collection of field notes, samples, and maps, his much-awarded career and scientific legacy includes books on the Yellowstone and Grand Teton landscapes written for lay readers and sold in most of the gift shops in the parks.

With youngest daughter Jennifer out of the nest and the USGS opening a new Northern Rockies Science Center affiliated with Montana State University, Ken and Linda moved to Bozeman in 2000. Ken joined the center and the MSU faculty as geologist and then emeritus geologist, bringing Ken and Linda closer to the Clarks Fork cabin and to Ken's field areas. He took great pleasure and interest in mentoring students at Montana State and leading field trips in the Northern Rockies whilst continuing to study the hotspot and other subjects.

Ken could not study the land and the earth so closely and spend so much time in the outdoors in our beautiful wild places, without also caring about its stewardship and future. He and his family came by their understanding of paleoclimates and their implications for our future through the careful study of evidence, from mud cores of lake bottoms lying on the dining room table in the 1970's to be examined for their pollen grains, to discussions over decades at the same dinner table of the correlation of carbon dioxide levels, climate, and glaciations. The denial of science and the willful dismissal of the vast body of evidence proving the reality of anthropogenic climate change was one of the great frustrations of his life. His children are also scientists because he could answer their questions with solid information and a keen understanding of the physical world around him in all its workings. Few children are so lucky.

Ken is survived by Linda, who lives in Bozeman and remains an active observer of nature and politics, Andrew, who is Adjunct Professor of Biology at University of Idaho in Moscow and studies fish physiology and conservation in the Columbia River system, Daniel, who is VP of Translational Medicine at Bristol Myers Squibb working on novel cancer therapeutics, and Jennifer, who is Professor of Geoscience at Boise State with a research focus in climate education, wildfires, and soils. He has six grandchildren: Erin, Colin, Lachlan, Sabine, Annie, and Declan. We will all miss him greatly. Ken was an active, pragmatic, and capable man who was in his element when working to solve a problem, whether it was filling key gaps in the hotspot story or figuring out how to field-repair the broken suspension of a USGS truck atop a remote range in central Idaho. To work and talk together with him on a problem of science, or of practical life, was to be home. His ashes will rest among some of the high places he loved.

Condolences & memories may be shared at www.dahlcares.com.
LINKS
Dahl Funeral & Cremation Service

Bozeman Daily Chronicle
http://www.bozemandailychronicle.com
Memories
Looks like something went wrong.
Reload the page and try again.