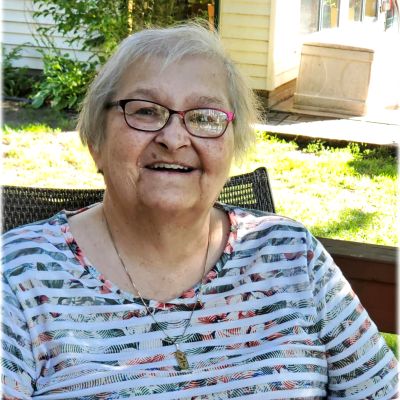 Kathryn
Ann
(Dunrud) Sundstedt
Help us celebrate Kathryn! Please share your stories and photos, and invite others who remember Kathryn.
Kathryn Ann (Dunrud) Sundstedt, 71, of Thief River Falls, MN, died on Wednesday, November 10, 2021, at Oakland Park Communities, Thief River Falls, MN.

Visitation will be from 2 PM to 5 PM, Sunday, November 21, 2021, at Johnson Funeral Services, Thief River Falls, MN, and one hour before the service on Monday, November 22, 2021.

Funeral services will be held at 1:30 PM Monday, November 22, 2021, at St. Bernard's Church, Thief River Falls, MN.

Kathryn was born on April 28, 1950, to Kenneth and Marcella (Rose) Dunrud in Grafton, ND. Their family moved to Viking, MN when Kathy was a child. She attended elementary school in Viking and graduated in 1968 from Newfolden High School in Newfolden, MN. She was baptized and confirmed in the Catholic faith.

In September of 1967, Kathy was set up on a "Blind Date." This was when she met Wayne Sundstedt, who would be the love of her life. On August 10, 1968, they were united in marriage in Argyle, MN at St. Rose of Lima Catholic Church. They lived in a few places before settling down in Thief River Falls where they had their two daughters.

Kathy had several jobs while raising her girls. While she was living in the Thief River area, some of the jobs Kathy worked were at Northwestern Bell as an operator, in a caf? and at Tastee Freeze. In 1982, Wayne took a job in Montevideo, MN, and moved the family there. In 1984, she attended Granite Falls Vo-Tech where she graduated from the medical secretary program. In 1986, she took a job working with Prairie 5 Community Action. She spent most of her years there working as the Fuel Program Manager. For 28 years, she liked her job and loved her work family. She retired in 2014. After Wayne died in April 2012, Kathy accomplished many things she never thought she could do and was proud of it, as were her daughters. In 2016, she sold her house in Montevideo and moved in with her daughter in Belgrade. Then, in 2017, she moved back to Thief River Falls to be closer to her mother and her siblings.

Kathy enjoyed bowling, traveling, cross stitching, crocheting, shopping, playing bingo, visiting family and friends, and helping others. She enjoyed making cross stitch pictures and crocheting afghans and giving them to family and friends. She was a very loving, caring and giving person. She was an avid Vikings fan. Win or lose, she never wavered from loving them Minnesota Vikings.

Survived by her daughters, Lisa (Daran) Solbreken of Clear Lake, MN and Sarah (Thomas) Lee of Belgrade, MN; four grandchildren, Tiana Solbreken of Glenwood, MN, Jacob Solbreken of Brooten, MN, Tyler Lee of Belgrade, MN, Madison Lee of Belgrade, MN; mother, Marcy Dunrud of Thief River Falls, MN; siblings, Karen (Randy) Krantz of Karlstad, MN, Mike (Teri) Dunrud of Viking, MN, Steve Dunrud of Viking, MN, Craig (Roxanne) Dunrud of Viking, MN; brother-in-law, Harlow Johnson of Thief River Falls, MN; plus many nieces, nephews, great nieces and nephews, cousins, and beloved close friends.

She was preceded in death by her husband, Wayne; father, Ken; mother-in-law, Gladys Rogers; father-in-law Wilhelm Sundstedt and sister-in-law, Gloria Johnson.

Burial will be at a later date.
LINKS
Johnson Funeral Service Inc.
http://www.johnsonfuneralservice.com

Monticello Times
https://www.hometownsource.com/monticello_times