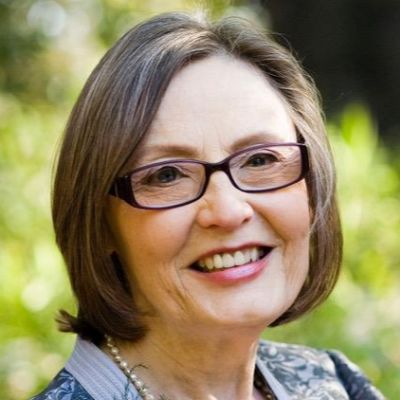 June
Carolyn
Jolly
Join us in celebrating June—please share your stories and photos, and help spread the word about this page!
June Carolyn Jolly was freed from her earthly bonds to enter into her Lord's presence October 30, 2022, at the age of 75. She was born June 25, 1947, in Galveston, TX to William and Minnie Hoffman, was raised in Alta Loma, TX, and had been a resident of Fremont, CA for over 40 years.

June was a devoted wife and mother, and faithful servant of God. She is survived by her husband of 47 years, Steve Jolly, her daughter and son-in-law, Sarah and Tom Ainsworth, grandchildren Syd, Sam, Tessa, and Tallie, mother-in-law Isabelle Jolly, sister- and brother-in-law, Ella and Elliot Figman, brothers- and sisters-in-law Tom and Penny Jolly, and Ed and Michelle Jolly, and their children and grandchildren. She was preceded in death by her parents and her sister Dorothy M. Brown.

Although June nearly died from a childhood bout of encephalitis that left her with an impaired sense of balance, she prevailed, learning to walk again at age four, and later getting a driver's license, attending college, and raising a child.

She grew up in relative poverty on the Gulf Coast of Texas. Undaunted, June made her way to Houston Baptist University and Southwestern Baptist Theological Seminary in Fort Worth, TX, where she earned a Master's Degree. After seminary, June moved to Ely, NV, where she was the day care director of the First Baptist Church. She met Steve on the first day of her service there. They married the following year, and soon moved from Ely to El Segundo, CA, near Steve's family, then to the San Francisco Bay Area in 1979, settling in Fremont just before their daughter Sarah was born.

During her married life, June was a homemaker while also volunteering her time to teach a neighborhood Bible study and to lead a Bible study at Aegis Living in Fremont. In the 1980s and 90s, she was a director in the AWANA children's program at Fremont Community Church (F.C.C.), and for many years was an evangelism volunteer at Vacation Bible School at F.C.C., sharing her love of Jesus with hundreds of children. June demonstrated through her actions the importance of literacy, dignity, patience, kindness, and going the extra mile for things that mattered.

She spent many happy days hiking and exploring California with Steve and Sarah, locally at Coyote Hills and Quarry Lakes regional parks, and further afield along the Monterey coast and at Lassen Volcanic National Park, but her very favorite place was among the giant sequoias of Calaveras Big Trees State Park. God's beautiful creation brought her sheer delight; she would happily sit under the massive trees and marvel at the magnificent world He made. Spending time with June left a person a little more connected to nature, a little closer to God, and a little more grateful. She also uncomplainingly visited scores of museums of practically every type with Steve. She was beautiful, well-organized, well-educated, loving, soft-hearted, and a godly woman of enduring faith. We are grateful for the time we had with her, and would like to thank the friends, caregivers, and hospice teams that supported us during her final days.

A memorial service will be held at Fremont Community Church, 39700 Mission Blvd., Fremont, CA, at 2:00 P.M. on November 12, 2022.
LINKS
Obit Family Account - Galveston Call Center

Galveston County Daily News
https://www.galvnews.com