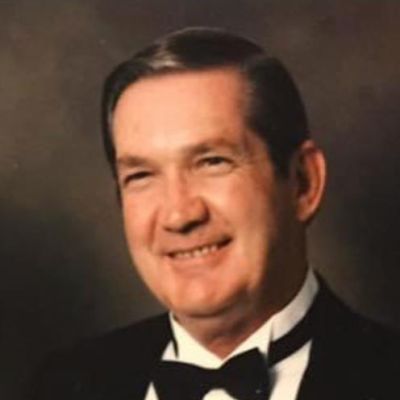 Julian
Clarence
Reynolds
Join us in celebrating Julian—please share your stories and photos, and help spread the word about this page!
Celebration of life services Mr. Julian Clarence Reynolds Sr., 89, of Dublin, will be held at 2 p.m. on Sunday, March 6, 2022, at First Baptist Church of Dublin. The family will receive friends an hour prior to the service in the sanctuary. The Rev. Darrell Paulk and Dr. Cliff Morris will officiate. Interment will follow at Dublin Memorial Gardens.

Julian Clarence Reynolds Sr. was born Feb. 12, 1933, in Lincolnton, Ga. to parents Clarence Washington Reynolds and Julia Rabun Reynolds.

He graduated from Harlem High School in 1950, and attended the University of Georgia, where he was a member of the Blue Key Honor Society, Demosthenian Literary Society, and Gridiron Secret Society. He graduated in 1954.

Mr. Reynolds served six years in the U.S. Army, and was an artillery instructor at Aberdeen Proving Ground during the Korean conflict. He worked as an agriculture teacher in Zebulon, Ga. before joining Louisiana Seed Company as a seed corn salesman, and later working for Delta and Pine Land. He returned to education after retiring from sales, working as an Ag teacher at Johnson County High School for several years.

The Lord answered his prayers for a wife when he met Virginia York at an FFA camp in Covington in May 1957. The two were married on June 29, 1958, and celebrated 64 years of marriage until their death.

Mr. Reynolds was a devoted deacon and Sunday School teacher at First Baptist Church of Dublin, and loved the local body of believers almost as much as his Lord and Savior.

He had a passion for teaching the word of God. Visits in his living room, or rocking on his front porch, never went by without him sharing a word of scripture and experiences from his walk with Jesus.

He was deeply committed to his family and four grandchildren, praying for all daily, and taking tremendous pride in their accomplishments and spiritual growth.

Those loves were only rivaled in his life by his fanhood for the Georgia Bulldogs, as a longtime supporter and football season ticket holder. In the last year of his life, he was able to celebrate a Braves World Series title, a Georgia national football championship, and a homecoming to see Jesus on February 28, 2022.

Mr. Reynolds is survived by sons: Julian Clarence Reynolds Jr. (Luanne), of Dublin Ga., and Arthur York Reynolds (Karleen), of Snellville; sister, Evelyn Reynolds Morris, of Appling; grandchildren: Julian Clarence Reynolds III, of Dublin, Chandler Reynolds Watson (Rusty), of Winder, Callie Reynolds Whigham (Jared), of Smyrna, and Christian York Reynolds (Haley), of Marietta, and other nieces and nephews.

Mr. Reynolds was also grateful for the kindness and love of his two caregivers, Geraldine Williams and Carolyn Robinson.

Flowers are appreciated, or memorial contributions may be made to First Baptist Church of Dublin, 405 Bellevue Avenue, Dublin, GA 31021. Please visit www.townsendfuneralhome.com to sign the online memorial register.
LINKS

Townsend Brothers Funeral Home
http://www.townsendfuneralhome.com
The Baxley News-Banner
http://www.baxleynewsbanner.com