 Judith
Gilkerson
What do you remember about Judith? Share your stories and photos here, and invite others to come share their memories.
Judith (Judy) Ann Gilkerson of Sultan, Washington was taken into the Lord's embrace on January 26th, 2021 while surrounded by her loving family.
She was born in Marion, Ohio on September 30th, 1947 to Robert and Mary Amrine. Judy grew up in Richwood, Ohio with 4 brothers and 2 sisters. It was in Richwood Judy would eventually marry the love of her life, Larry Gilkerson. The two later moved from Ohio to Seattle and ultimately settled in Sultan to raise a family and make a home on several private acres atop the Sultan Basin.
Over the years the home that Larry and Judy had built with their own hands hosted numerous family gatherings and celebrations. Those celebrations most often focused on Judy's children; being a mother was what she prized above all else. Judy was a very talented seamstress, baker and cook. Home was also where Judy honed her considerable gardening skills, growing various plants and flowers of all sizes, shapes, and colors. She was also quite fond of the many wild creatures that would visit the property, including the hummingbirds that returned one last time to pay their respects.
Judy also spent 20 years working as a paraeducator at the Sultan School District and loved working with elementary school children and helping them learn how to read.
Judy was preceded in death by her parents Robert and Mary Amrine, her brother, Robin, brother-in-law Richard, her nephew Phillip and nieces Heather and Melissa. She is survived by her husband Larry Gilkerson, her son, Larry S. (wife Cindy) Gilkerson, her daughters, Shelby (husband Dustin) Boucher and Christy (husband Kevin) McDermott, as well as grandchildren, Devan and Sienna Boucher, Hailey and Kelsey Wilhelm, Maddie and Liam McDermott, Tina (partner Wendell) and Dawndy (partner Troy) Rollness and great-grandchildren Jakoby King and Skylar Wolf.
She also leaves behind her brothers, Paul, Greg, and John, and sisters Rebecca Ziegler and Marsha Lopez.
Judy will be missed by all who were blessed to know her.
LINKS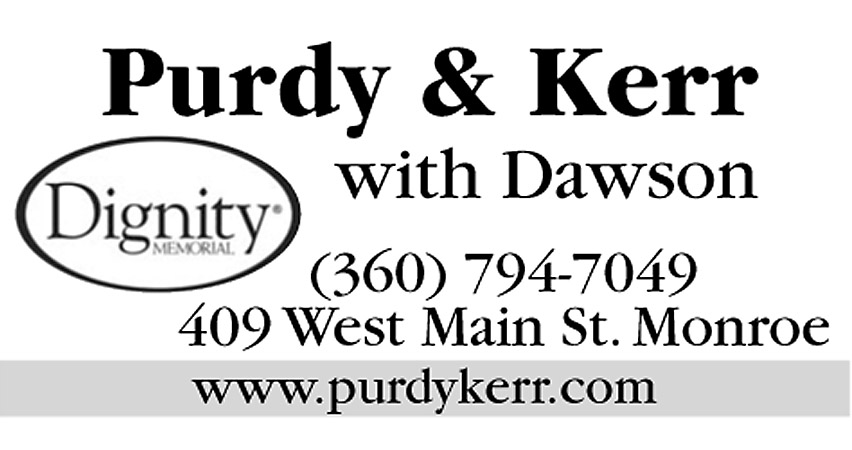 Purdy & Kerr with Dawson Funeral Home
The Richwood Gazette
http://www.rgnews.biz

The Daily Herald Obituaries
https://www.legacy.com/obituaries/heraldnet