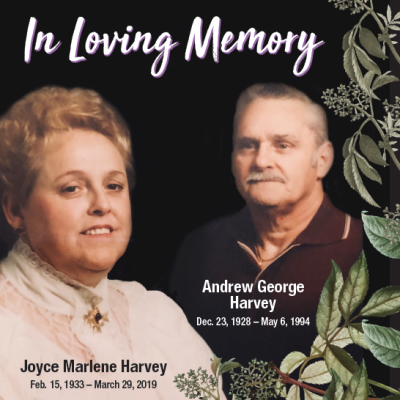 Joyce
Marlene
Harvey
Granny... our shining star, loving Wife, Mother and Grandmother.
On Friday, March 29, 2019, Joyce Marlene Harvey, loving wife, mother of six, grandmother of ten and great grandmother of twenty-three, passed peacefully in her sleep. in Stockton, California. Joyce was surrounded by her three remaining children, George Harvey, Mary Harvey, and Lori Jimenez. Upon her passing she joined her loving husband Andrew Harvey and three children, Patricia, Robert and Michael.

Joyce was a licensed vocational nurse in Southern California for 32 years before retiring to Northern California. She was the matriarch that tied our family together. She was a very active grandmother and helped raise two of her grandchildren and three of her great grandchildren.

Life is delimited by beginning and end dates but is defined by the quality of activity within those years. Joyce was busy filling her life, guiding her children, spoiling her grandchildren and cracking jokes all along the way. She also loved to collect porcelain dolls and displayed them proudly.

After almost 25 years apart Andy and Joyce will be put to rest together at the Sacramento Valley National Cemetery on April 19 at 9:30am.