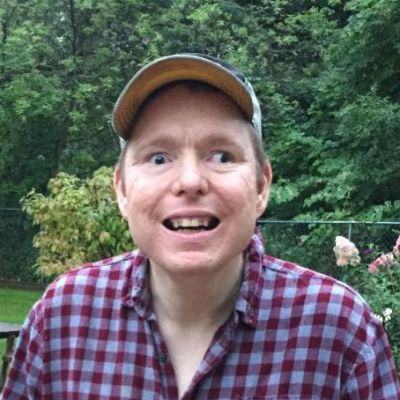 Joshua
Dean
Spencley
Help us celebrate Joshua! Please share your stories and photos, and invite others who remember Joshua.
Joshua Dean Spencley, 33, died unexpectedly on December 24, 2019. Josh was born on March 4, 1986, the son of Dale Spencley and Sheryl (Guy) Thayer. He attended Pellston public school for his early education and graduated from Taylor School in Petoskey in 2012.

He enjoyed bowling and recycling. He was active in 4-H and raised two champion market hogs. Joshua loved animals, dogs, cats, cattle and especially pigs. He was pretty particular in his interests and would only drink Diet Wild Cherry Pepsi and Root Beer and his favorite snacks were Big Red Gum and Oreo's. He had a fantastic memory and was good at recalling lines from movies, and remembering people's names and faces. He knew every scene from "Beauty and the Beast" and "Lion King" by heart.

Despite his many illnesses, Joshua was polite, well-mannered and the kindest person you would ever meet. He would hold the door for anyone, give a hug when he saw someone in need of one, and would always share whatever he had. Kindness was his superpower.

He is survived by his mother and step father, Sheryl and Guy Thayer of Levering; his father, Dale Spencley of Cheboygan; four siblings, Jeremy Spencley of Levering, Michael (Megan) Spencley of Hickory Corners; Cassidy (Brian Jurek) Thayer of Levering and Riley Thayer of Levering; grandparents, Walt and Melinda Spencley and Charles Thayer; niece, Madison Spencley; nephew, Bradley Spencley; many aunts, uncles and cousins, especially his good friend and cousin, Josh Thayer; and his family at Springridge Adult Foster Care in Boyne City, the staff and residents who all showed Joshua immense love and gave him exceptional care.

He is preceded in death by his grandparents, Tom and Donna Conkright; Carolyn Thayer; and Virginia Lewis.

There will be a memorial service at Stone Funeral Home on Tuesday, December 31, 2019 at 11:00 a.m. with a one hour visitation prior to the service. Rev. David Behling will officiate.

In honor of the many wonderful teachers in Joshua's life, his family is going to be creating a scholarship in his memory. While they are still in the process of arranging the scholarship, donations can be given directly to his mother, Sheryl Thayer.
LINKS

Stone Funeral Home, Inc.
http://www.baucomsevents.com
Cheboygan Daily Tribune
http://www.cheboygannews.com

Petoskey News
http://www.petoskeynews.com