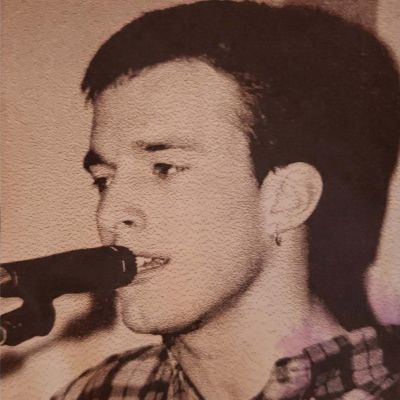 Joshua
Chambers
Help us celebrate Joshua! Please share your stories and photos, and invite others who remember Joshua.
Joshua Chambers, 45, a resident of Greenwich and Saratoga passed away Friday, February 12, 2021 at Loma Linda Hospital because of a brain hematoma.

He was born November 22, 1975 in Cambridge, NY to Joseph and Betty (Hamilton) Chambers.

Josh was first and foremost a son, brother, friend, nephew, and cousin. He was a talented musician, poet, theatre director genius, risk taker, obstinate pain the ass, avid reader, college professor, tennis player and songwriter.

Ernest Hemingway once said, "Only bullfighters and jockeys live their lives all the way up". Josh seemed to live by Hemingway's quote. He was a prolific songwriter, director, and writer. Josh left a lasting imprint on many of the areas he loved the most including Greenwich High School, Skidmore College, Cal Arts, Fovea Floods Theatre Company, and Throw Down Bouquet Band.

Josh wrote hundreds of songs and directed hundreds of plays with his beloved Fovea Floods Company. He also directed plays in Saratoga, Schenectady, Washington DC, NYC, Los Angeles, San Diego, Boulder, and Austin, TX.

Times Union entertainment critic Steve Barnes wrote in a tribute to Josh's life in the Sunday, February 14, 2021 edition "Josh Chambers artistic fecundity and superabundance of gifts across multiple creative disciplines awed collaborators and audiences alike".

Times Union Critic Michael Eck reviewed a play that Josh wrote and directed called "Paul Pry" and said it was "The most fun, most challenging piece of theater you will see in the Capital District" adding that it is a madhouse of masks, music, blood, sex, terror, and hilarity.

Josh always saw and focused on the good in people and their talent. He had a way of enhancing the good and instilling confidence to expand their talent.

Josh is survived by his devoted and loving mother Betty Hamilton Chambers who was at his side in the hospital as he passed; his father Joseph Chambers and his brother and best friend Michael (Alexa) Chambers.

There are too many people to thank for the outpouring of love and support the family has received.

Donation's in his memory may be made to Caf? Lena, 47 Phila St, P.O. Box 245, Saratoga Springs, NY, 12866 or at www.caffelena.org

"To my comrade, friend, son, and brother, you are the music in its infinite forms. Simplicity waltzing with complexity. Emotion battling the intellect, truth making love to reality."

A celebration of his life for family and friends will be announced at a later date when COVID-19 restrictions are lifted.

Online condolences and messages to the family may be made at www.flynnbrosinc.com.
LINKS
Flynn Bros., Inc.
http://www.flynnbrosinc.com
The Greenwich Journal and Salem Press
http://journalandpress.com