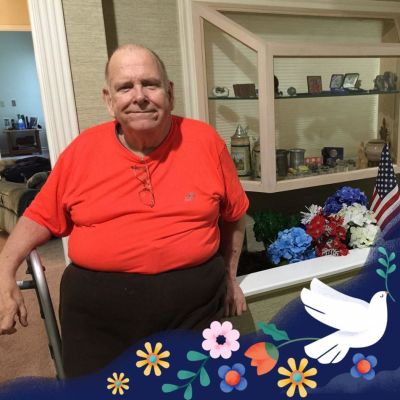 Joseph
William
Steinocher
"Ride, boldly ride," the shade replied, "if you seek for Eldorado."
Born in Cleveland, Ohio on December 30, 1947 to newlyweds Joe and Carol Steinocher, this tiny, premature baby with big blue eyes was the first grandson on both sides of the family and nicknamed "Jody" to distinguish among the Joes in his family.

His dad, an engineering student at Notre Dame, and his mom, a stay-at-home mother, the tiny family lived in Vetville, as the married housing was called, ministered to by Fr. Ted Hesburgh, the chaplain at the time. Soon, though, the family moved to Louisville, Kentucky, as his Dad began a long career in civil engineering. This was followed by a return to Cleveland, Ohio, where Jody entered St. Charles Catholic School at the age of 5. Soon thereafter he became a big brother to Jacquelyn Ann, teaching her many things such as reading, kite-flying, and 52-Pickup.

Another move to New Buffalo, Michigan put Jody in Notre Dame Catholic School near the farmhouse rented by the family and quickly saw the addition of two sisters: Michelle Marie and Loreen Jean. The farm owner, Dr. John Valentiejus, became Jody's Confirmation sponsor.

Dad's changing jobs took the family to live outside of Charleston, West Virginia, in a quaint log home beside a creek in a "holler." Jody attended Sacred Heart Catholic School and then entered Charleston Catholic High School. The lack of neighbors in the area forced him to recruit his sisters in many recreational pursuits, including baseball, basketball, and catching minnows in the "crick." The family was a fortunate survivor of the Flood of 1961, called by some the Flood of Magazine Hollow or the Garrison Avenue Flood, which took 22 lives in the Kanawha Valley.

But Mom's battle with allergies and asthma forced Dad to relocate yet again, to suburban Miami, Florida, where Jody entered Christopher Columbus High School and graduated in 1965. He entered the University of Miami, majoring in billiards and ping-pong until he discovered a lack of available positions in those areas. Instead he sought to serve his country by enlisting in the U.S. Air Force in 1969.

Jody attended basic training at Lackland AFB, (where he learned to hate his nickname, used in marching cadence ("Ain't no reason to be looking back, Jody has your Cadillac...") followed by communications training in Biloxi. He rode out Hurricane Camille there and served in disaster relief in its aftermath. Upon graduating from Air Force tech training, his first assignment was overseas, to Incirlik, Turkey, where he frequently took the worst holiday shifts so that married men could be with their families. He made good use of his time overseas to travel, take photos (a new hobby), and purchase exotic gifts for the family.

His next duty station was at Wurtsmith AFB (now closed) in Oscoda, Michigan. He attained the rank of Sergeant, but offers of promotion could not change his mind to leave the Air Force and return to college. After a brief stint as a Gator at the University of Florida, he settled on Florida International University to complete his degree in Industrial Engineering in 1977.

Jody worked in his chosen profession for over 20 years, at companies including Geosource Electronics Systems (Houston, TX), Rockwell-Collins (Cedar Rapids, IA), Martin-Marietta (Denver, CO), Harris Government Aerospace Systems (Melbourne, FL), and Raytheon Missile Systems (Bristol, TN), where he was part of the team that produced Patriot missiles during the First Gulf War. He indulged himself in photography, pen-and-ink drawing, gold prospecting, and gem collecting as hobbies. He loved nothing more than showering his mother and sisters with his discoveries: emeralds, amethysts, rubies, and garnets.

During the layoffs in the defense industry at the close of the war, he found himself unemployed and returned home to Miami just in time to catch Hurricane Andrew. He was invaluable in helping his parents during this time, and worked as a flagman for TASK Surveying, owned by his father. When Mother passed in 1997 after a long battle with COPD, Jody was an important source of emotional support for the family.

Jody was working with an electronics company in Hialeah, Florida, when he began to experience the complications of diabetes that eventually claimed his life. Sidelined by his illness, he lived with Dad and was aided by niece Jessica Rymer Steinhart, allowing them both to stay in their home and share sports passions such as Miami Dolphins football until January 2016 when the senior Joe Steinocher passed away from a stroke. His last year of life was spent in San Antonio, where he learned to enjoy breakfast tacos, fajitas, brunch after Mass, and Spurs basketball (although he rooted for the Heat). While recuperating from surgery, he lived with Linda Leal and Gary Leal in their separate group care homes, and appeared to improve and prosper until the Lord called him home on April 12, 2017.