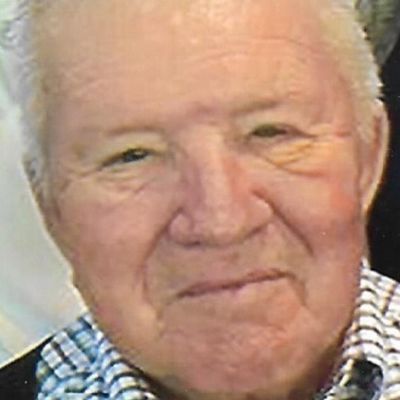 Joseph
Gosi
Help us celebrate Joseph! Please share your stories and photos, and invite others who remember Joseph.
Joseph Gosi, age 84, of Fountain, MN, died on Friday, November 29, 2019, at Chosen Valley Care Center in Chatfield, MN.

Memorial services will be held at 11:00 a.m., on Wednesday, December 4, 2019, Christ Lutheran Church, with Pastor Dan Bredberg. Burial will take place later at Crown Hill Cemetery. Visitation will be held for one hour prior to the service at the church Wednesday.

Joseph "Joe" Gosi was born June 7, 1935, in Tarnokreti, Hungary, son of George and Maria (Doktor) Gosi. Joe escaped from Hungary during the Hungarian Revolution in 1956. He was sponsored by Charles and Lucille Swanson through the Lutheran Church to come to America as a young man. On November 6, 1965, Joseph was united in marriage to Carol Cummings at Christ Lutheran Church in Preston. Joe began working for Pine Tree Orchard and worked there for 20 years. In 1985 Joe began planting apple trees, strawberry plants, and berry bushes to start the orchards for Preston Apple and Berry Farm. He ran the orchard for 30 years retiring in 2015 at the age of 80. Joe was known as the "Pie Man" for his delicious apple pies, often making 20 to 30 pies a day. Joe was past President of the Minnesota Fruit Growers. He liked to compete at the Fillmore County and Minnesota State Fair, winning 1st place twice for his apples. Joe was a member of the Preston Tourism and Fillmore County Extension Board and Christ Lutheran Church council. When he wasn't tending to his orchard, Joseph enjoyed fishing and gardening. Joe and Carol enjoyed traveling to Hungary and around south western United States. They wintered in Port Isabel, TX, where Joe like to fish off the Pier. He would exchange an apple pie for frozen fish with some of the shop owners on the Pier. Joe was very proud to be an American and of the life he built here.

He is survived by his wife of 54 years Carol Gosi of Fountain, MN, sister Piroska Balogh of Zalaegerszeg, Hungary, sister-in-law Alice Cummings, 3 nieces Ildiko Balogh of Gyor, Hungary, Piroska Balogh of Budapest, Hungary, Jeanne Hargesheimer of Rochester, MN, and Julie Stolp of Oronoco, MN, 1 nephew Mark Utley of Reno, NV, and great niece Sonja "Szofi" Keszi of Gyor, Hungary, and his godchildren Crista Hulett of Big Lake and Katy Larson of Howard Lake.

Joseph was preceded in death by his parents, sponsor family Charles and Lucille Swanson, foster brother David Swanson, sisters-in-law Jeanne Fisher and Phyllis Utley, and brothers-in-law Warren Cummings and Donald Cummings.

Joe's family would like to thank Seasons Hospice for their compassionate care and also Chosen Valley Care Center of Chatfield for their care and concern.
LINKS


Post-Bulletin
http://www.postbulletin.com
Memories
Looks like something went wrong.
Reload the page and try again.