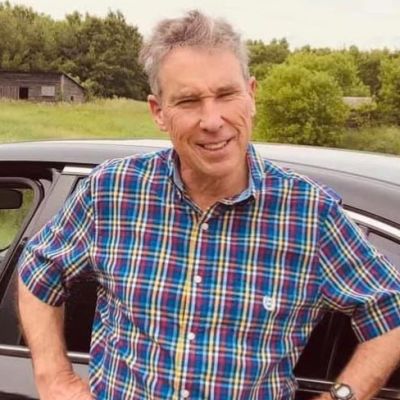 Jon
Brian
Cummings
Help us celebrate Jon! Please share your stories and photos, and invite others who remember Jon.
Jon Brian Cummings of Reedsburg, age 64, passed away unexpectedly in Madison, Wisconsin on December 23, 2020.

Jon was born on March 23, 1956 in Frederic, Wisconsin to Royce and Leona Cummings. The second of four brothers, Jon's life was shaped by hard work at the family lumber yard. His father taught him to drive a fork-lift by the time he was in long pants, and his mother taught him the value of a hard-earned penny. But Jon's life was filled with fun too. The Cummings brothers were avid fishermen and hunters, and visit to their house was like a trip to the taxidermist. Jon loved to drive fast?cars, snowmobiles, and dirt bikes. One of his brothers described him as "the Evil Knievel of the family." Growing up, Jon's brothers were his best friends and the outdoors was his playground.

Jon was a graduate of Dunwoody Technical Institute and worked as a master electrician for more than 40 years, most of that time for the University of Wisconsin-Madison. Jon rarely met a motor or transformer he could not fix, and colleagues relied on his extraordinary trouble-shooting skills to literally keep the lights on.

In 1983, Jon married Judy Dodge. Life with Jon was never dull. He had a knack for spotting the potential in ramshackle houses and the skills to remake these properties into a home. He bought and transformed three properties. Judy grew accustomed to living in dust and debris, knowing that eventually Jon would uncover the beauty of the building. The couple made perfect traveling partners. Jon, the braver one, coaxed Judy to hike into grizzly territory in Yellowstone, prodded her up the slopes of Mount Rainier, snorkeled by her side in the Pacific, and rode the rails with her through Europe. Jon and Judy were partners for 41 years and married for 37.

Jon was the proud father of three children: Nicole, Zachary, and Benjamin. A man who struggled to verbalize his affection, Jon showed it instead. When they were little, he often took the children on spontaneous camping trips, all four of them sleeping in a pup tent. He and the kids came home filthy and stinking of fish, but full of joy. As the children grew up, Jon taught his sons how to hunt, did the repairs on his daughter's car, and helped them solve any and all technical matters. Actions were Jon's language of love.

Jon and Judy lived on 118 acres north of Reedsburg and this land has been Jon's passion for the last 20 years. He transformed the former cow pasture into a prairie of big bluestem grasses where pheasants and turkey nest and he planted thousands of trees along the hillsides and streams. In 2015, Jon discovered prehistoric human made berms and mounds on the property, and through Lidar images and historic maps he developed a theory that the ancient Native American population was much larger than currently believed. Prior to his death, Jon was trying to find an academic institution to help him prove this theory.

Jon was a genius in terms of his trouble-shooting skills and ability to think abstractly. But that genius came with a price. For the past decade, Jon has struggled with bipolar disorder, and on December 23, this cruel illness took his life. Our hearts are breaking at the loss of this brilliant man, but we take solace in the fact that Jon has finally found peace.

Jon was preceded in death by his father, Royce Cummings. He is survived by his wife, Judy Dodge Cummings, and their children, Nicole Cummings, Zachary Cummings, Benjamin Cummings (Katie), his beloved granddaughter Eva Cummings-Garcia; his mother Leona Cummings, and his brothers Jeffrey, Jay (Julie), and Gene, and many nephews and nieces.

A memorial service is being planned for some time in January. Because of Covid restrictions, the number of people who can attend in person will be limited, but we invite others to join us in celebrating Jon's life via Zoom. For more details on this service, please email Judy at [email protected].

Cards can be sent to Judy at 5325 Century Ave., Apt. 8, Middleton, WI 53562. Any donations will be given in Jon's name to the National Alliance on Mental Illness.
LINKS
Cremation Society of Madison
http://www.cremationsocietyofmadison.com
Reedsburg Times-Press
http://www.wiscnews.com/reedsburgtimespress