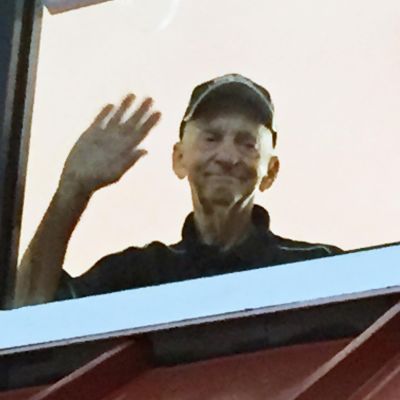 Johnny
Ralph
Meek
Join us in celebrating Johnny—please share your stories and photos, and help spread the word about this page!
Mr. Johnny "Ralph" Meek, age 84, of Rockmart, traded in his earthly life for Heavenly Glory on July 15, 2022. Mr. Meek was born on March 30, 1938, in Dallas, Georgia, a son of the late Mr. Ennis Meek and Mrs. Inez Carter Meek.

Mr. Meek grew up in Rockmart, Georgia, and graduated from Rockmart High School in 1956. While in school, he played varsity football. In 1954, while in 10th grade, Mr. Meek began refereeing football and basketball games for other high schools. He refereed high school football for 64 years, finally retiring in 2018. The Officials' Dressing Room at Rockmart High School was dedicated to him and named the "'Ralph Meek Officials' Dressing Room'".

Mr. Meek was honorably discharged from the United States Air Force after a knee injury cut his basic training short. He retired from Lockheed Aircraft after 40 years of employment in the Photography Department.

After retirement, Mr. Meek served his beloved Rockmart Community for 22 years at Freeman Harris Funeral Home.

Mr. Meek was an avid golfer, and he competed with Northwest Georgia Senior Golf Association.

Mr. Meek loved to garden, work in his yard, have fun with family and friends, and tell people about God's amazing love for them. Mr. Meek was a longtime member of Fairview Baptist Church and served as Church Clerk and a Deacon for over 50 years. He also taught the Teen Sunday School class and helped with Wednesday night youth activities for more than 20 years. Mr. Meek loved teaching children and teenagers about Jesus, and he found no greater joy than when one of them accepted Christ as his/her Savior. He coached RA basketball at Antioch gym. He also played church-league softball.

He was preceded in death by his parents; an infant daughter, Cindy Lynn Meek; brothers, Bob Meek, Talmedge Meek, Gordon Meek and Tom Meek; sister, Dora Gulledge and an infant sister.

Mr. Meek was survived by his wife of 39 years, Mrs. Janice Lynn Stringer Meek; his daughter and son-in-law, Dena and Bob Tracy; and his greatest pride and joy, his only grandchild, Ty Tracy. It is unlikely that anyone who spent any time with Ralph in the past 20 years was not told about his love for his grandson. Also surviving is a brother, Charles Henry Meek of Pennsylvania; several nieces and nephews, and other family members.

Funeral services were held Sunday, July 17, 2022 at 4:00 p.m. in the Fairview Baptist Church with Rev. Jason Stringer and Dr. Aaron Johnson officiating. Interment followed in Rockmart Memorial Gardens with Rev. Greg Robinson officiating.

Serving as pallbearers were: Ty Tracy, Jay LeGrande, Kevin Lively, Allen Massey, Jason Massey, Charles Pinkard, Caleb Stringer and Jared Stringer.

Honorary pallbearers: Allen Bullard, Jerry Dabbs, John Doehla, Eddie Haley, Coach Biff Parsons, Jerry Stringer, Don Willis and Deacons of Fairview Baptist Church.

Donations can be made in memory of Mr. Meek to Fairview Baptist Church. P. O. Box 442, Rockmart, GA 30153 or The Alzheimer's Association.

Freeman Harris Funeral Home in charge of the funeral service for Mr. Johnny "Ralph" Meek.
LINKS

Freeman Harris Funeral Home

Polk County Standard Memoriams
http://www.romenews-tribune.com