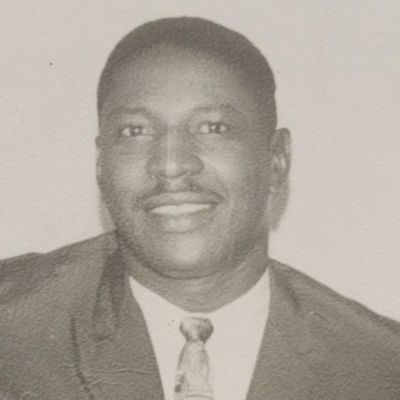 Johnnie
Bush, Jr.
Join us in celebrating Johnnie—please share your stories and photos, and help spread the word about this page!
Mr. Johnnie Bush was born on December 18, 1934 in Longview, Texas. He was the son of the late, Mr. Johnnie Bush, Sr., and Mrs. Eula Mae Bush.

In 1953, he graduated from Gladewater High School and then went to Texas Southern University in Houston, Texas. In 1956, he enlisted in the Air force and was stationed at Lackland Air Force Base. It was while stationed at Perrin Air Force Base in Denison, TX that he met and married Clara Adams.

During his 25 year career in the USAF, he specialized and became an Aircraft Technician. He was trained to maintain the F-84 and F-102, fighter/reconnaissance aircraft. He also worked on the F-86, B-57 Bomber and was the Flight Line Supervisor for the F-5's and the T-38's, the U.S. aircraft flown from the Philippines to South Korea to act as the aggressor Air Force in exercises for UN Forces in the Republic of Korea. Johnnie also made three trips to the war zone in Vietnam. Master Sergeant Johnnie Bush and wife Clara Bush raised seven children while travelling extensively. His tour of duty in the military required he and his family to move to places near and far. The family travelled to places such as Amarillo, Texas; Florida, New Hampshire, and the Philippines, to name a few. He retired in 1981 after a long and successful career in the military.

After his career in the military, Johnnie and Clara made Marshall, TX their home. In 1983, he went to work for the U.S. Postal Service in Marshall, TX where he worked until his second retirement some 16 years later. Johnnie remained in Marshall, TX until he moved to Carrollton, TX with family in November 2020.

Johnnie was preceded in death by his grandparents, Mandone and O.C. Green; both parents, Johnnie Bush Sr., and Eula Mae Bush; his wife, Clara Bush; his aunt, Clara Green; his three uncles, T.D Green, Willie Green and Grady Green; his son, Ronald Stancell; and two grandsons, Shawn and Jarrell Stancell.

Visitation: 10:00 AM, Friday, April 9, with Funeral Service to follow at 11:00 at Metrocrest Funeral Home, 1810 Perry Road, Carrollton, TX 75007. Graveside service with military honors will be at Fairview Cemetery, Denison, TX at 2:00 PM

Left to cherish his memory, his son, Darrell (Jeannie) Stancell; and his five daughters, Hattie (James) Donald of Ft. Worth, Texas; Margie Stancell of Mesquite, Texas; Anita (Mike) Isaacson of Carrollton, Texas; Scharlene Bush of Aubrey, Texas and Johnetta Bush of Carrollton, Texas; grandchildren, Eddie Blacknell, III; Telisha (James) Mays, Darrell Stancell, Jr., Ralph Dixon, Kenyon Dixon, Kason Stancell, Jackie Isaacson, Airiel Isaacson, Jonathon Bush, Jasmyne Bush, England Davis, Jared Stancell, and Crystal Isaacson; and a host of great-grandchildren, nieces, nephews, cousins and friends.
LINKS
Metrocrest Funeral Home - Carrolton

Marshall News-Messenger-Memoriams
https://www.marshallnewsmessenger.com