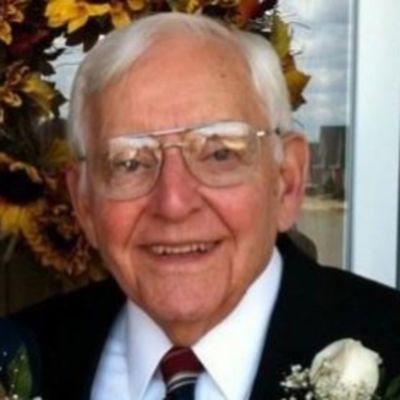 John
M.
Long
Join us in celebrating John—please share your stories and photos, and help spread the word about this page!
John Marshall Long. Age 91, of Rochester, MN entered heaven on 10/26/2019 at Mayo Clinic Hospital. He was diagnosed with subdural hematoma on 10/24, and died peacefully less than 24 hours later, as his wife of nearly 59 years tenderly whispered goodbye. We rejoice though our hearts are breaking.

He was a lover of Jesus, a Husband, a Father, a Grandfather, a Great Grandfather, and Friend to countless people.

John Marshall was born July 28, 1928 to parents Samuel J. and Maude Leigh (Everett) Long in Norfolk, VA. He was the youngest of eight children, which included Virginia, William, Eloise, Samuel, Joseph, Richard, and Martha. He was named after the fourth Chief Justice of the United States Supreme Court.

John attended the First Church of the Nazarene in Norfolk, VA as a child, where he grew in his faith in Jesus Christ, and was baptized in the Elizabeth River. He graduated from Matthew Fontaine Maury High School in Norfolk, Virginia. He went on to receive his bachelor's degree from William and Mary, a master's from Michigan State and a doctorate degree from the University of Virginia.

He served in the Air Force during the Korean War. He was a professor at the University of Arkansas Medical School and the University of Minnesota. He has an extensive bibliography of publications in medical research and computational medicine.

In retirement he and his wife moved to Murfreesboro, TN in 1993. He was active in Rotary, volunteered at the Stones River Battlefield, and fostered his love of trains. He authored the book A Ribbon of Steel to document the realization of his lifelong dream to ride the train around the world.

He was an accomplished professor, a lover of trains and travel, and outlived many of the lifelong friends he made during your 91 years living in Norfolk, Minneapolis, and Murfreesboro. For those who are still here, we're heartbroken.

John is survived by his wife Luella Clemens and three adopted children: Samuel Long of TN, Leigh (John) Schilling of MN, and Paul (Staci) Long of MN; five grandchildren: Aleigh (Hector) Munoz, Billie Hanson, John Owens, Emily Kahnke, Henry and Greta Long; great grandchildren Mateo, Nikko, Tayden, and Riley; and sister Martha Prince. He is preceded in death by parents Samuel and Maude, and his four brothers and two sisters.

More than anything, John loved Jesus first and his wife and family only slightly less.

Dad, we are rejoicing in the hope that all of your greatest dreams of heaven didn't measure up to what you're experiencing now. We love you; have a good time and behave yourself.

Funeral services will be held on Sunday, November 3rd at 2:00pm in Rochester, MN at Ranfranz & Vine Funeral Home. Interment will be held at a later date in Norfolk, VA. Memorials, in lieu of flowers, may be made to True Life Church in Rochester, MN, or the Rotary Club.
LINKS

Ranfranz and Vine Funeral Homes
Star Tribune
http://www.startribune.com
The Daily News Journal
http://www.dnj.com
The Virginian-Pilot
http://www.pilotonline.com