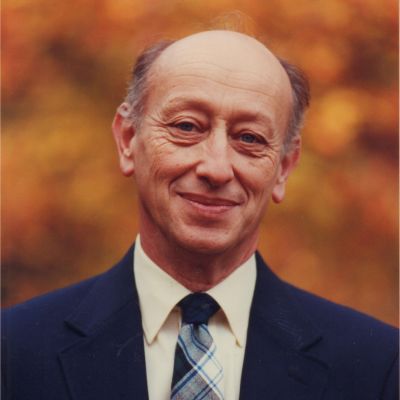 John
J.
Beer
What do you remember about John? Share your stories and photos here, and invite others to come share their memories.
John J. Beer, 94, died quietly on October 2nd, 2021 at the Kendal retirement community.

John lived in Newark for 41 years, where he and his wife Fran raised their four children. He taught History at the University of Delaware, was a founding member of Newark Friends Meeting (Quakers), and engaged in peace and justice activism throughout his long life.

Born in Saarland (now Germany), his Jewish family fled to Paris, then emigrated to the US in 1937, where young John was delighted to see their family name in store-front lights everywhere!

In 1945, John graduated from Vineland (NJ) High School and joined the Navy, where his experiences solidified his life-long commitment to pacifism.

John studied Chemistry at Earlham College, where, singing on the dishwashing crew, he fell in love with Frances Nicholson. They married in 1951.

He earned a Ph.D. from the University of Illinois, publishing his research in his book, The Emergence of the German Dye Industry. After two temporary teaching jobs and three years at Oklahoma State University, he moved to Delaware in 1961 for the remaining years of his career.

John loved teaching! He was curious about any and all subjects, which he incorporated into his classes on European history, history of science, technology, and chemistry. and new topics: Women in Science, the Atomic Age, and Gandhi, with a focus on the ethical application of technologies. Outside of teaching, he worked to build a collaborative, collegial environment in his department and its Hagley Fellows graduate program.

Grateful to the United States for providing him citizenship and a good life, John took his citizen duties seriously. He attended the 1963 civil rights March on Washington and its 50th anniversary. He corresponded regularly with his representatives, including Joe Biden. Much of his activism addressed government-sponsored violence?persistently protesting the wars from Vietnam through Iraq and Afghanistan, and working towards nuclear disarmament and demilitarization. He and Fran vigiled overnight in Smyrna every time the state killed a death row prisoner.

John was a devoted Quaker, serving Newark Friends Meeting and other Quaker organizations in many capacities. He often ministered during worship, hosted student dinners in his home, and mentored many young seekers and activists. The twinkle in his blue eyes and his warm smile invited every person he met into engaged conversation.

John's research on iron and steel technologies took him into Eastern Europe, which led to a sabbatical year in Munich with his family. Later he and Fran sojourned in Vienna, Birmingham, England, and Jerusalem, then enjoyed travel further afield with Elderhostel. They were always eager to visit museums and historical sites at home as well as new places, and to maintain connections with faraway relatives.

In 2002, he and Fran joined John's three siblings at the Kendal retirement community. He continued to advocate for children with CASA in Wilmington, to bicycle and swim, and to cheerfully help with many activities at Kendal. As in Newark, he cultivated a large garden, setting out baskets of vegetables and bright flowers for others to take home. Until his last week, John walked the beautiful grounds of Kendal, admiring big trees and flowing water, and waving at all who passed by.

John was preceded in death earlier this year by Fran, his wife of 69 years, by his parents, Lucy and Otto Beer, siblings Lise, Martin, and Hilda, and young daughter Carolyn. He is survived by children Jennifer, Sandra, Michael (Latanja), and Matthew (Elizabeth); and grandchildren Carolyn, Seth, Avery, Kian Thomasbeer, and Skye Thomasbeer.

Donations in John's memory may be given to Pacem in Terris, depaceminterris.org, or any of the many organizations he participated in.


LINKS

The Newark Post
https://www.newarkpostonline.com