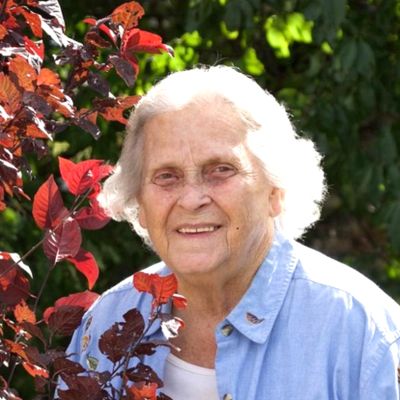 Joanne
Bailey Harrison
Help us celebrate Joanne! Please share your stories and photos, and invite others who remember Joanne.
Joanne Harrison, lifelong resident of Manton, passed away on Sunday, April 17, 2022 at Whispering Pines Assisted Living in Lake City, Michigan. She was 89.

Joanne was born May 15, 1932 to Wilmer and Hazel Esther (Burnham) Bailey in Manton, Michigan. She was a graduate of Manton High School, Class of 1950. She entered into marriage with J. Lovell Harrison on May 24, 1950. Joanne and her husband raised five children. She had 21 grandchildren, 34 great-grandchildren, and 1 great-great-grandchild, all of which she could individually name. Joanne was very involved in the local community and was a life-long member at Rollins Christian Fellowship Church. Most of her adult life she resided on Spudaway Farm, the Harrison Centennial farm. She was a hardworking farmer's wife, partnering with her husband, Lovell. In the early years, she worked as a Manton telephone operator. Joanne worked many years for Manton Industries, where she made many friendships she cherished. She was a major organizer of the annual Manton Alumni Dinner and enjoyed sharing fond memories with all the classes. She loved laughter around the campfire with the "kids" at Lake Billings. In her spare time, she could often be found sitting on her deck enjoying the outdoors with friends and family. Throughout the years, she was on several bowling leagues as well as a pool league. Joanne had a very giving heart and would help anyone that needed it. Joanne enjoyed surrounding herself with people and knew most of the people in Manton by name. She cherished the time spent with her family and will be remembered as a one-of-a-kind mother, grandmother, great-grandmother, great-great grandmother, sister and friend.

Joanne is survived by her loving children, Esther M. (Roger) Doornbos, John L. (Linda) Harrison, Alan D. (Susan) Harrison and Doris D. (Jeff Kooiker) Harrison; grandchildren, Christopher Doornbos, Patricia O'Dell, John B. Harrison, James S. O'Dell, Joy Camp-Fitzhorn, James Harrison, Joshua Harrison, Tanya Eversole, Patrick Harrison, Sarah Kooienga, Terry Wilber, MacKenzi Harrison, Jenica Harrison, Douglas Longstreet, Melissa Mosse, Heather Longstreet, Brent Longstreet, Dennis Beals and Aaron Beals; numerous great-grandchildren; sisters, Ila Mae (Richard) Gouldman and Mary Gashaw; several nieces and nephews; and many other loving family members and friends.

She was preceded in death by her husband, J. Lovell Harrison; daughter, Lois Harrison; grandsons, Alan Harrison Jr. and Michael Doornbos; siblings, Jim, Vernon, and Clara; her parents, Wilmer and Hazel Esther Bailey.

Visitation will take place on Friday, April 22, 2022 from 5 p.m. until 7 p.m. at Rollins Christian Fellowship. Funeral services will be conducted on Saturday, April 23, 2022 at 11 a.m. with visitation held one hour prior also at Rollins with a luncheon to follow.

In lieu of flowers, memorial contributions may be directed to the Harrison family.

Condolences and memories may be shared online at www.Hall-Holdship.com.

The family is being served by Hall-Holdship Funeral Home.
LINKS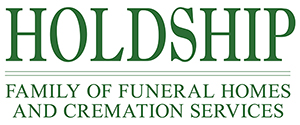 Hall - Holdship Funeral Home
https://www.holdshipfuneralhomes.com

Cadillac News
https://www.cadillacnews.com/obituaries