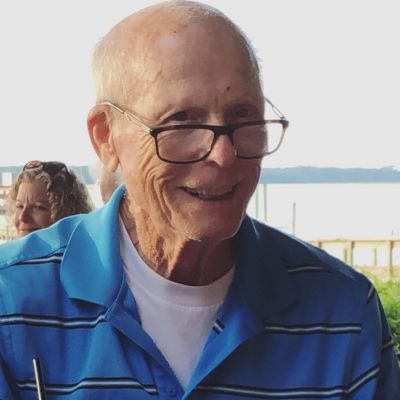 Jim
Cook
How do you know Jim? Please share your stories and photos, and help spread the word about this page!
Jim Cook, a resident of Hilton Head, South Carolina, was the second son of five sons born to Evans P. Cook and Louise Dean Cook. He was born in Shenandoah, Va., and grew up on the family farm in Grottoes, Va. Jim and his four brothers worked alongside their father plowing fields, planting corn, and harvesting crops. These were hard times for the family as Jim was born at the beginning of the Great Depression. Living on a farm had benefits as the family always had plenty of food; however, there was very little money. Jim's dad traded food for items the family needed. Taking grain to the mill to be ground into flour was a high adventure for the boys. Riding in the wagon with the grain and bringing home flour was an exciting day. As the aged, the five boys loved to reminisce about their farm life.

Jim is predeceased by three brothers: Evans P Cook; George Cook; and the youngest, Harry Cook. Jim has one living brother, Thomas A Cook, (wife Janice) of Jacksonville, Florida. Jim attended public schools in Virginia and graduated from Wilson Memorial High School. Jim served in the Air Force during the Korean War as a fighter jet mechanic. After being discharged, Jim tried different jobs such as working at Dupont, attending barber school and becoming proficient at giving "flat tops." Jim then went to college where he met and married his sweetheart, Nancy Wilfong. As of December 22, 2021, Jim and Nancy would have been married sixty-four years. In addition to his wife, Nancy, he is survived by a daughter, Elizabeth Peterson (husband Norman) and two granddaughters, Emma and Abigail. The girls called Jim "PAPA" and they were the love of his life. Also surviving Jim are three sisters in law: Connie McGroder; Janice Cook; and Bea Wilfong. There are several nieces and nephews surviving their Uncle Jim.

Jim was an educator at heart: He held different positions in public education: a classroom teacher; assistant principal; principal; director of education and a superintendent. He taught math and science, always promoting the work of students. In 1974, after receiving his EdD from the School of Education at the University of Virginia, he continued his career in public education. Jim was involved in early education and encouraged teachers to use their skills to teach children reading at an early age. Jim retired from education in 1991, after serving eight years as Superintendent of schools in Warren County, Virginia. He continued pursuing education, going to school at Lord Fairfax Community College. He considered computer education; surveying roads; and random courses. After retirement, he found the job of his life. It was playing golf and working at the Shenandoah Valley Golf Club in Warren County, Va. This is when Jim discovered that it never rains, snows nor gets cold on the golf course. He loved getting up in the early morning and heading to the golf course. He made many friends there. Jim had "regular" players who came from "northern Virginia. They met and played on Sunday, early am. He played in the Senior League at Shenandoah Golf Club. And then there was the "Rockland Gang" Group. This was a group of five men who developed rules of conduct which were intended to resolve issues while playing. The rules were written and signed by the players. Throughout his life, playing golf; meeting with friends; supporting family; and gardening brought Jim many happy moments.

There will be a celebration of Jim's life to be held at Shenandoah Country Club, Front Royal, VA on September 25 at 2 pm, all are welcome. Check website (saulsfh.com) for more information. In lieu of flowers, please send donations to a charity of your choice.
LINKS
Northern Virginia Daily
http://www.nvdaily.com