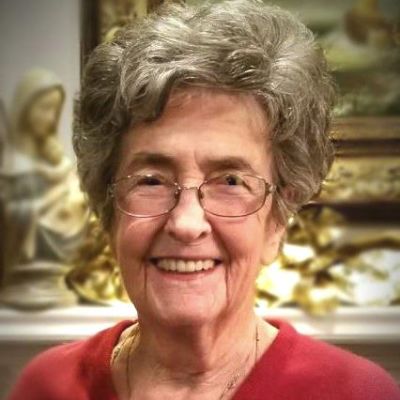 Jewel
Sanders Kirkland
Did you know Jewel? Please share your stories and photos, and help spread the word about this page!
Funeral services for Jewel (Sanders) Kirkland, 93, of Lufkin, will be held Tuesday, August 30, 2022, at 10:00 a.m. at Shafer Funeral Home in Lufkin with Bro. Steve Cowart and Bro. Cary Modisett officiating. An Eastern Star Graveside service will follow at the Garden of Memories Memorial Park in Lufkin.

Mrs. Kirkland was born on January 27, 1929, in Angelina County, Texas, the 5th of eight children, to the late Hiram Bell and Mellie Modisette Sanders, and died Friday, August 26, 2022, in Lufkin.

Mrs. Kirkland graduated from Central High School, May of 1945 at the age of 16. Shortly after, she started her first job on Pyote Air Force Base in Monahans, Texas. She married Ralph Kirkland Sr. on November 10, 1948. They traveled all over the United States while Ralph welded on pipelines. Jewel was an active member of Redland Baptist Church where she rocked many babies in the nursery, and a 70 year member of the Lufkin Chapter 382 Eastern Star. Mrs. Kirkland enjoyed country and western dancing, square dance, and clogging. Among her many hobbies were canning jelly, baking fruit cake cookies, quilting, and gardening. She raised her children and grandchildren and welcomed many loved ones and friends at her homeplace of 64 years. "Mama Jewel's" was always a favorite gathering place.

She is survived by her children, Patricia Kirkland Mathews of Lufkin, Texas, Guesna Kirkland Dixon and husband Ardie of Lufkin, and Ralph M. "Kirk" Kirkland of Lufkin; siblings, Gaynell Thompson of Lufkin and Hiram "Jake" Sanders and wife Shirlene of Tupelo, Mississippi; granddaughters, Melanie Mathews Murray and husband Chris of Lufkin, Dawn Mathews Kennedy and husband Zac of Atlanta, Texas, Erika Smith O'Quinn of Lufkin, Whitney Smith Friesen and husband Tripp of Lufkin, Chelsea Kirkland of Colorado, and Samantha Kirkland Dew and husband Chase of Wells; grandsons, Bo Kirkland and wife Kate of Lufkin, Cash Kirkland and wife Cassidy of Lufkin, Josh Bell and wife Salena of Pollok, and Ty Kirkland and wife Katy of Wells; great-granddaughters, DoveAna Murray Sullivan and husband Hunter, Chloe Murray and fianc? Cullen Sessions, Jordan Maddox, Courtney Linton, Presley O'Quinn, Guesna, Eva, Annika, and Charlotte "Charlsie" Friesen, Harleigh Kirkland and Lyndy Dew; great-grandsons, Hayze Bell, Dean Zimmerman, and Bexx Kirkland; as well as her great great-grandson, Clayton Sullivan; along with numerous nieces and nephews.

Mrs. Kirkland was preceded in death by her husband, Ralph Kirkland, Sr.; parents, Hiram Bell and Mellie Modisette Sanders; son, Benjamin "Sandy" Kirkland; brothers, Don, Carl, and Jim Sanders; sisters, Louise Burrous and Loyce Fenley; son-in-law, Donnie Mathews; and great-grandson, Mathew Kennedy.

Pallbearers will be Bowen Kirkland, Cash Kirkland, Chris Murray, Zac Kennedy, Tripp Friesen, Tony Sanders, Donny Sanders, and Malcolm Sanders.

Special memorials may be made to a charity of your choice.

Visitation will be held from 6:00 p.m. to 8:00 p.m., Monday, August 29, 2022, at Shafer Funeral Home in Lufkin.

Shafer Funeral Home, Lufkin directors.
LINKS


The Lufkin News
http://www.lufkindailynews.com