 Jeanette
Ellis
Estell
Did you know Jeanette? Please share your stories and photos, and help spread the word about this page!
On December 14, 1942, God blessed Emory and Emma Ellis with their second of two daughters, whom they named Jeanette in honor of her mother's sister Jennie, Mae Keaton. Born in Natchez, Mississippi, Jeanette was raised in Orange and Galveston, Texas, receiving her elementary and secondary educations through the catholic and public schools in Orange and Galveston. A proud and mighty Bearcat, she graduated from Galveston Central High School in 1961. Aspiring to become a beautician/ cosmetologist, she graduated from Franklin Beauty School in Houston, Texas in 1963 and was a practicing licensed cosmetologist from the mid-60s to early-70s before working as an administrative professional from the early-70s to mid-90s, initially as a secretary at Texas Research Institute of Mental Science (TRIMS). She later worked with Visiting Nurses Association as a secretary and Baylor College of Medicine as an Ophthalmic Pathology Lab Secretary. In 1996, she graduated from Modern Barber College and practiced as a licensed barber for 22 years, retiring from Jerry's Style Shop in Houston in 2018.

Jeanette accepted Christ as her Lord and Savior at an age and was added to the Church of Christ at Avenue K in Galveston and later affiliated with Southside Church of Christ in Houston. She was a member of the Missouri City Church of Christ at the time of her transition.

On November 23, 1963, Jeanette and Charlie Adams, Jr. were united in holy matrimony. To this union, one son, Emory Charles Adams, was born. Jeanette later divorced and was remarried to Samuel Lee Estell on April 22, 1972. To this union one son, Sean Lamaan Estell was born. Jeanette is preceded in death by her loving parents, Emory and Emma Ellis; paternal grandparents Ed Ellis and Emma Nettles Pratcher; maternal grandparents, William T. Larkin and Isabelle Starns Larkin; beloved sister, Edwina Ellis James; and Ancestors All.

On March 18, 2021, Jeanette transitioned from her earthly sojourn and labor to eternal life and heavenly reward. To cherish her precious memories, she is survived by her beloved husband of 49 years, Samuel Lee Estell; two sons, Emory Charles Adams (Lorraine) and Sean Lamaan Estell; one brother, Earl Lee Jordan (Christiana); two nieces, Sharon Demetrice James Johnson and Brittany Stevenson; two great nieces, Sharmelle Monet Twymon and Emmaly Samone James; four nephews, Royce Allen James (Sherry), Andre Cerf (Tonya), Rodney Cerf (Fantasia) and Chance Estell; one brother-in-law, Donald Ray Estell (Billie); three sisters- in-law, Opal Cerf, Lucille Estell and Gloria Ann Stevenson; one goddaughter, Shellier Baker Simmons; one life-long sister-friend, Beverly A. Woods; long-time family friend, Damon Horn; and host of other family and friends.

Homegoing services will be held Saturday, March 27, 2021 at Mainland Funeral Home. The visitation services will begin at 10:00am until 11:45 a.m.; followed by the funeral service starting at 12:00 p.m.
LINKS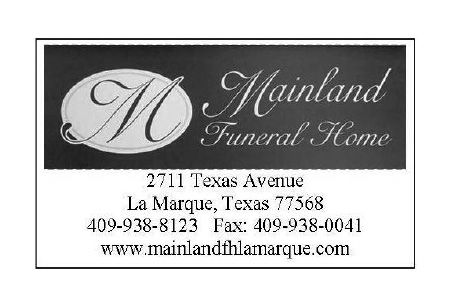 Mainland Funeral Home-Danville

Galveston County Daily News
https://www.galvnews.com