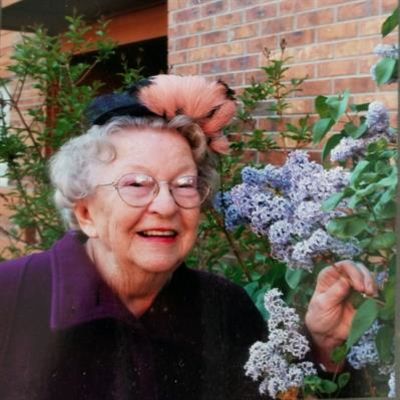 Janet
Margaret
Hugenberg
Help us celebrate Janet! Please share your stories and photos, and invite others who remember Janet.
Janet M. Hugenberg, M.D. died Thursday at the HopeWest Hospice Care Center after almost 97 years of a good life.

Janet was born in Portsmouth, Ohio, the youngest of three daughters of the late Carl G. Braunlin, M.D. and Helen Frick Braunlin. She graduated from Ohio State University in 1943 and from the University of Cincinnati Medical School in 1946.

Janet married U.S. Army Captain William C. Hugenberg, M.D. on April 7, 1945, in Portsmouth, then raised six children and celebrated 64 anniversaries with him before her beloved Bill predeceased her - also at the HopeWest Hospice Care Center - on July 19, 2009.

Janet's joy for life touched all who knew her. She embraced all of life's pleasures, never wasting energy on negativity. Indeed, her positive attitude, bright eyes, and endearing charisma surely played a part in her classmates' decision to name her to their Homecoming Court in her senior year at Ohio State. Throughout her life, one of her greatest pleasures was enjoying music, a passion that she shared with her husband.

As a devoted mother and homemaker, Janet exemplified for her children the importance of cultivating supportive relationships with others and accepting the challenges that life brings. She was fond of saying that "life is not waiting for the storm to pass - it's about dancing in the rain."

Janet is survived by her six children - Bill, Jr. (Chriss), Grand Junction, CO; Carol, Ferdinand, IN; Judi (Ed) Joyce, Pittsburgh, PA; Patty (friend Jimmy), Grand Junction, CO; Nancy, Grand Junction, CO; and Doug, Denison, TX; nine grandchildren and four great-grandchildren.

The family is grateful for the loving care Janet received at Eagle Ridge of Grand Valley during the last three years. Eventual internment will be in the Memorial Burial Park at Wheelersburg, Ohio. The family gratefully requests that donations in lieu of flowers be made to the HopeWest Hospice Care Center so that other families may experience the same compassionate care rendered by its staff that helped Janet pass in peace.
LINKS

Grand Junction Daily Sentinel
http://www.gjsentinel.com