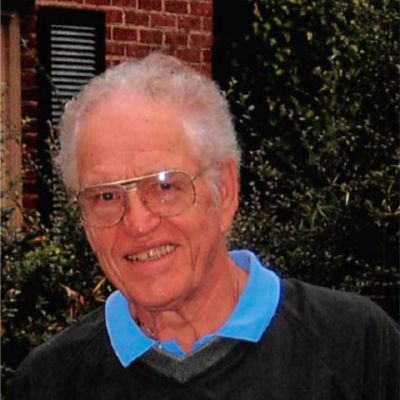 James
MacDonald
Stormont, M.D.
What do you remember about James? Share your stories and photos here, and invite others to come share their memories.
On March 29, 2020 James MacDonald Stormont, M.D. passed away peacefully in his home at the Park Springs Community outside of Atlanta, Georgia. Joan, his loving wife of 70 years, was by his side. He was 92 years old.

Born on October 7, 1927 to Dr. Daniel and Mildred Stormont in Chicago, Illinois he was the oldest of three children. He grew up in Evanston, Illinois along with his two siblings, Mary and Dick. The family spent summers at their cottage in Ephraim, Wisconsin, sailing and enjoying Lake Michigan. Jim earned the distinction of Eagle Scout, and he was a member of his Evanston high school swim team, generating a lifelong interest in the sport.

After an accelerated high school program and graduation from Yale University (BS), Jim entered medical school at the Columbia University College of Physicians and Surgeons (MD) and graduated as a member of AOA, medical honor society. He completed his Residency in Internal Medicine at University of Rochester and was a Thorndike Fellow in Gastroenterology, liver disease and nutrition at Harvard Medical School, Boston City Hospital. Following this, he returned to Rochester as Instructor of Medicine and Senior Buswell Fellow at the U of R.

Between his medical training, Jim served active duty in the Navy for two years as Destroyer Squadron Medical Officer in the Western Pacific, responsible for 8 destroyers during the Korean War.

Jim started his private internal medicine practice in Rochester, New York with Pulsifer Medical Associates, and later was a Kohn Teaching Fellow in Medicine. He was a devoted and committed physician in the Rochester community for over 60 years, loved by his many patients and respected by his peers. Jim was one of the last doctors to routinely make house calls and his children remember accompanying him in the car as he made his rounds. He was a founding member of the Western NY branch of the American Liver Foundation and received the Outstanding Chapter Leadership Award and the Man of the Decade Award from the American Liver Foundation.

Jim was professionally affiliated with Strong Memorial Hospital, Rochester General hospital and Highland Hospital. While conducting research on Crohn's disease, Jim was named clinical Professor Emeritus of Medicine, University of Rochester School of Medicine.

He served in many leadership roles in the medical community. He was president of the Rochester Society for Internal Medicine and the Rochester Academy of Medicine. He was founder of the Monroe Plan-foundation for Medical Care. He served on the Board of Directors of the Finger Lakes Health Systems Agency and was Medical Director of the Rochester Methodist home. He was presented with the Award of Merit by the Rochester Academy of Medicine. He served as a consultant to the Medical Associates at the Genesee, Rochester Institute for Digestive Disease and Science, and the Veterans Administration of Canandaigua Hospital where he set up Hepatitis C clinics.

In addition to a lifetime of medical service, he was a devoted family man. Jim and Joan raised their family of four children in Rochester and were active golf and tennis members of the Country Club of Rochester. They spent many summers at their cottage on Canandaigua Lake and winters skiing as a family at the Hunt Hollow Ski Club. From Indian Guides to cotillions, and family camps to summer camps, Jim provided a full lifestyle for his family.

The Stormonts were active members of the Third Presbyterian Church and had a large circle of friends in Rochester. They enthusiastically participated in many social groups and activities from book clubs, to canoe trips, to folk dancing and travel. They actively supported and participated in the Rochester arts community, including GEVA theatre and Rochester Philharmonic Orchestra. Jim loved music and was a cellist from a young age and was a member of the Yale Glee Club. Family Christmas concerts included Jim on the cello, Joan on the piano, the boys on guitar, and singing by all.

In their later years as empty nesters, Joan and Jim traveled the world visiting places including New Zealand, China, Greece, Africa, Indonesia, and other destinations.

Eight years ago Jim and Joan moved to the Park Springs Community to be closer to family in Atlanta. While at Park Springs, Jim and Joan made many new friends, playing bridge, golf and enjoying social engagements and cultural activities. He enjoyed his participation in the low vision book club and the Park Springs Health and Wellness Committee. They loved their new church family at Eastminster Presbyterian Church in Stone Mountain.

Jim is survived by his wife of 70 years, Joan Stormont, his younger brother Dick Stormont, his four children and their spouses: Sue and Doug Murphy, Beth and Shelby Carter, Beth and Jim Stormont, Jr. Laura and Bob Stormont, as well as their loving grandchildren: Meeghan and Rob Fortson, Deborah and Douglas Murphy, Sarah and Jack Murphy, Kim and Hermann von Bertrab, Hank Carter, Scott Carter, Sarah Stormont, Maureen and Mac Stormont, Andy Stormont, and four great grandchildren: Grant Fortson, Thomas Fortson, Hermann Henry von Bertrab and Sofia von Bertrab, and many nieces and nephews.

Jim will be remembered by all who knew him as a kind, gentle, honest, selfless, and ethical man with a sharp intellect, and foremost for his unconditional love of his wife, Joan, and his family. He was a role model for all and led his life with an integrity that will never be forgotten. His family members are grateful for the strong and steady guidance, love and support he provided. A well-worn banner still hangs over his desk summing up his loyalties: "For God, for Country, for Yale and for Joan".

In lieu of flowers, please feel free to make a charitable donation to the Eastminster Presbyterian Church of Stone Mountain Georgia, 5801 Hugh Howell Rd, 30087.
LINKS
Sandy Springs Chapel Funeral Directors
Democrat and Chronicle
http://www.democratandchronicle.com