James
Alexander
Rickard
What do you remember about James? Share your stories and photos here, and invite others to come share their memories.
James Alexander Rickard died peacefully at his apartment in Austin, Texas, on Friday, the 16th of December 2022. He was 96 years of age.

He was born in Austin on the 9th of July 1926, the son of Dr. John Allison Rickard and Bessie Mae White Rickard. Jim grew up mostly in Kingsville, Texas, where he made lifelong friendships. He attended Texas A&I University, now known as Texas A&M University at Kingsville, where he received both his BS (summa cum laude) and MS in 1948. He then entered the University of Texas, where he met and married Marjorie Claiborne Bell in 1952 while both were associated with the University.

After earning his PhD in nuclear physics in 1953, Jim and Marge moved to Houston, which they called home for most of their 63 years of marriage, and where they reared their daughter, Claire, and son, John.

In Houston, Jim began a long and rewarding career with the Humble Oil & Refining Company (later Exxon Corporation) and Sohio Petroleum (later British Petroleum). He retired in 1990 as Vice-President of BP Exploration, the U.S. upstream unit of British Petroleum. He authored many technical reports and papers and held 17 patents. He belonged to the American Physical Society, the Society of Petroleum Engineers of the AIME, and the Marine Technology Society. He was President, a member of the Board of Directors, and a Fellow of the latter organization. He was Registered Professional Engineer #55840 of the State of Texas. Jim also was a member of the Marine Board of the National Academy of Engineering. For years he served on the Executive Committee of the Offshore Technology Conference and was chairman in 1982, the year attendance peaked at more than 100,000 people.

A strong supporter of his academic institutions, Jim was President of the Texas A&I Alumni Association in 1967, and was instrumental in helping the Association start its Century Club and hire its first full-time paid executive director. He was named Distinguished Alumnus by Texas A&I University in 1972, the sixth person so honored by that institution. He served on the Advisory Committee of the University of Texas College of Natural Sciences for over two decades, was a member of the University of Texas President's Associates, and was a charter member of the Littlefield Society. With the help of selected fellow students, he established a Lectureship in Physics in the name of their major professor Dr. Emmett L. Hudspeth.

Jim served his country in the Navy during World War II in the American and Pacific theaters. After the war he chose to remain in the ready reserves, finally retiring in 1969 with the rank of Commander, USNR.

Active in his church, St. John the Divine Episcopal, Jim served multiple terms on the Vestry and as chairman of the Every Member Canvass. He also served as chairman of the Finance Committee and as delegate to Diocesan Council. He founded and was for many years head of the Craftsmen Guild.

One of his special concerns was the plight of homeless men and women. Jim served on the Board of Directors of Houston Habitat of Humanity and personally managed the construction of three Habitat homes. After his retirement from BP, in 1992 he served as full-time pro bono President and CEO of the Lord of the Streets Construction Company, a church-supported organization that provided training and jobs for the homeless in the construction industry.

An accomplished and experienced outdoorsman, Jim was active in a wide variety of outdoor activities. He especially enjoyed tennis, quail hunting, and his favorite hobby, tree farming. He owned and operated pine tree farms in East Texas for most of the last fifty years of his life.

As he liked to say, "I had a good run."

He is preceded in death by his parents and his wife.

Jim is survived by his daughter, Claire Rickard Palmer and her husband Ret. Col. Sam Palmer, and son, John Alexander Rickard and his wife Frances Jacobson Rickard; four grandchildren, James Rickard, Anne Rickard McGonigle and her husband Josh McGonigle, Andrew Palmer, and Alison Palmer; and two great-grandchildren, Madison McGonigle and Jackson McGonigle. He is also survived by his sister, Mary Rickard Martin, and numerous nieces and nephews.

A celebration of Jim's life is to be conducted at eleven o'clock in the morning on Saturday, the 14th of January, in the Chapel of The Church of St. John the Divine, 2450 River Oaks Blvd in Houston, where The Rev. Doug Richnow, Priest Associate, is to officiate.

The inurnment will follow in the Garden of Resurrection at St. John the Divine, where he will be inurned next to his wife Marge.

Immediately following, all are invited to greet the family during a reception in the nearby Parlor.

In lieu of customary remembrances, memorial contributions may be directed to Houston Habitat for Humanity, 3750 N. McCarty St., Houston, TX 77029 (houstonhabitat.org); or a charity of one's choice.
LINKS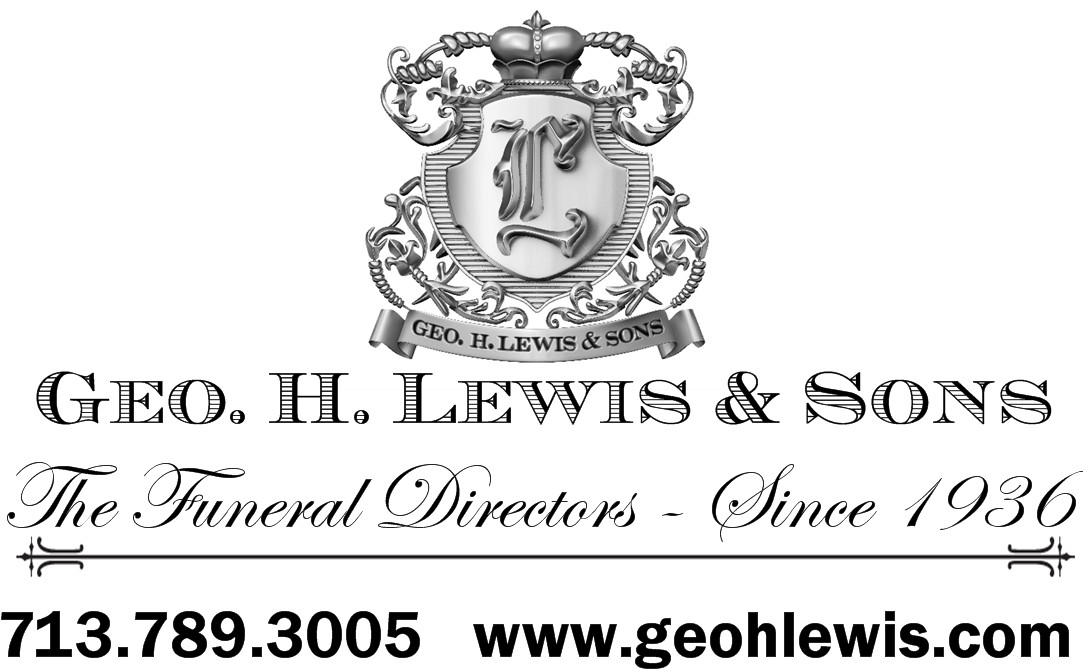 Geo H Lewis and Sons Funeral Home
Kingsville Record & Bishop News
http://www.kingsvillerecord.com