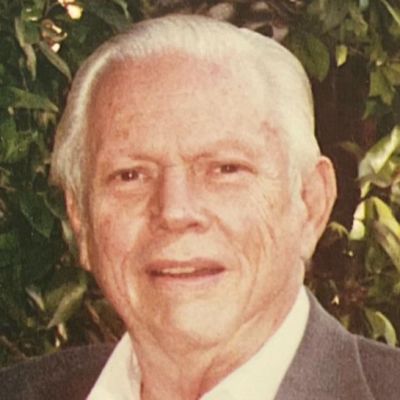 James Herbert
Bond
Join us in celebrating James Herbert—please share your stories and photos, and help spread the word about this page!
James Herbert Bond, 92, lifelong resident of Dallas and longtime Texas oil producer, died on December 11 in his home in Dallas.

A native of Dallas, he attended Highland Park High School and Southern Methodist University. He married Nancy Farley on January 28, 1950, and together they had three beloved children, James Herbert Jr., William Richard, and Ellen Adrienne.

Throughout his long and storied life, Bert Sr., as he was called by friends and family, was an avid golfer and enthusiastic follower of all sports, with a particular devotion paid to the Dallas Cowboys, Texas Rangers, and anything that ran around a racetrack. Bert Sr. had an excellent sense of humor, spent much of the 1980s chasing four dachshunds around his yard, and was consistently generous and supportive to nearly everyone who touched his life in a meaningful way.

He is predeceased by his parents, Roland Selik Bond Sr. and Sadie Adickes Bond, brother Roland S. Bond Jr., wife Nancy Farley Bond, daughter Ellen Adrienne Bond and son James H. Bond Jr., and nephew Roland S. Bond III.

He is survived by his son, William Richard Bond, and granddaughter, Dorothy Kendall Bond, as well as ten much loved nieces and nephews, Carole, Charles, Zacharis, Randolph, Ginny, Mary, Rachelle, Renee, Reagan and Karen.

Funeral services will be held at 2:00pm on Thursday, December 23 at Sparkman Hillcrest Funeral Chapel, 7405 W. Northwest Highway. A private graveside burial for family will follow.

In lieu of flowers, please consider contributing to Salvation Army or the charity of your choice.
LINKS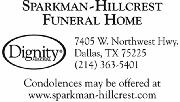 The Dallas Morning News Obituaries
http://www.dallasmorningnews.com