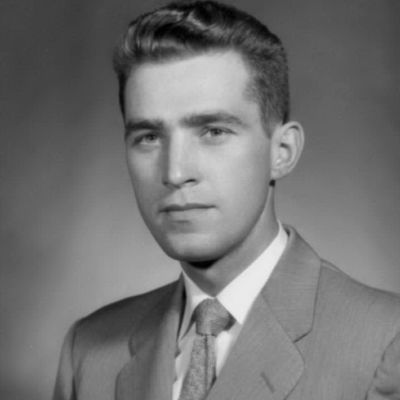 James
E
Hamilton
Join us in celebrating James—please share your stories and photos, and help spread the word about this page!
James E Hamilton, 87, passed away on January 12, 2017 at his home in Ivins, Utah. He was a beloved husband, father, grandfather, uncle and friend who will be missed by those left behind. Born on November 20, 1929, in Salt Lake City, Utah, the favorite son of James Exile and Lucinda Ashton Hamilton, and favorite brother to Mary Alice (Newton) and Ruth (Walton).

He loved learning and excelled in school, graduating from South High School (1949), University of Utah (B.S.) in 1955, Harvard University (MBA) in 1957. After serving an LDS mission in the California North Mission, he was inducted into the Army during the Korean War as an instructor and radio operator, serving the last year in Germany. In 1958, he married the love of his life, Heloyce Hanson in the Salt Lake Temple. They made their first home in southern California where their son Mark was born and later returned to Utah where children David, Laurel, and Heather joined the family.

The major part of his career was spent working for the Internal Revenue Service at its Ogden Computer Center as chief of several divisions. He felt his most rewarding experience came as chief of the quality assurance and management support division. It was during this time the Ogden center received the POTUS (President of the United States) award for quality service to the districts and citizens who were served by their office. It was one of only three offices receiving the award that year out of approximately ten thousand offices existing in the United States government at that time. He was chosen to go to Washington, D.C., to receive a special flag for quality that was flown at the entrance to the Ogden Service Center, honoring all managers and employees of that facility.

Above all, he was a faithful and devoted member of the Church of Jesus Christ of Latter-day Saints, serving in many ward and stake leadership positions. He was bishop of the Mt. Ogden Ward and the Kaysville 23rd Ward. Upon retirement, he and his wife served in the Connecticut Hartford Mission and the Nauvoo Temple Mission. They loved their call as ordinance workers in the Mt. Timpanogos Temple, where they served with joy for 13 years.

His parents and sisters preceded him in death. His greatest love and treasure was his family and his dear friend and partner, Heloyce. He is survived by Heloyce and their four children: Mark (Cheryl) Hamilton, David (Carol) Hamilton, Laurel (Ronald) Hill, Heather (David) Kinard, seventeen grandchildren and ten great grandchildren.

Funeral services will be held Friday, January 20, 2017 at ll:00 a.m. at the LDS church located at 56 East 600 North, Lindon, Utah with a viewing at 9:30 a.m. prior to the services. Internment will be in the Mona city cemetery. In lieu of flowers, donations may be made to the LDS Church Perpetual Education Fund. Condolences may be offered to the family online at www.walkersanderson.com.