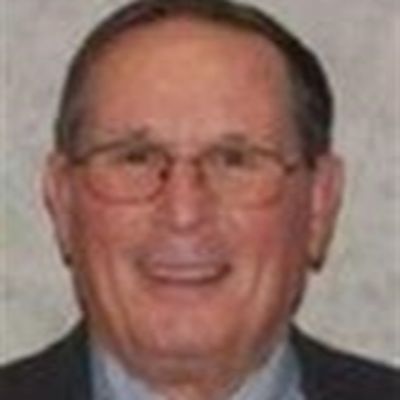 James
"Jimmy"
E.
Flynn
Help us celebrate James! Please share your stories and photos, and invite others who remember James.
James E. "Jimmy" Flynn, beloved father, grandfather, friend and coach, passed away peacefully of natural causes in the comfort of family on December 17, 2020. A man who cherished his faith and his family, Jimmy was 87.

Born one of nine children in Pittsburgh on April 5, 1933, he was the son of John and Adele Flynn. He attended St. Philomena's parish grade school before moving on to Central Catholic High School. At Central he blossomed as a charismatic leader and student-athlete, excelling on the football field and track for the Vikings. Though undersized, he made up for it with speed, toughness and grit. His success would earn him a scholarship to attend the University of Delaware in 1951.

At Delaware, he was a star halfback on the gridiron and set the school record for the 50-yard dash on the track. He led the 1954 football team in rushing with 705 yards and in scoring with 60 points as the team went 8-2 and won the Refrigerator Bowl. He finished his career ranked second on UD's all-time rushing list. He was a member of the Sigma Nu fraternity and enrolled in the Army ROTC program, graduating with the rank of Second Lieutenant in 1956.

Returning to Pittsburgh to fulfill his military service, Jimmy stayed on to teach and coach at his alma mater. After a few years as the head football coach at Central Catholic, he would again leave Pittsburgh for Newark, this time to take a position in the Blue Hens' department of athletics as coach and instructor. He would serve in this capacity for two decades under legendary Delaware coach, mentor and athletics director, Dave Nelson.

Jimmy was head men's track & field coach at Delaware for 18 years (1961-1979). He took a struggling team and in two years, turned it into a conference champion comprised of mostly in-state athletes. His teams won conference championships three times. In the early 1970's, he established the women's track & field program and was proud of his role in ushering opportunities for women to compete at the collegiate level. In addition to his track-coaching prowess, Jimmy served as Delaware's freshman and assistant varsity football coach, helping to develop many successful Blue Hen standouts.

In Newark, he met the love of his life, Frances Bennett of Wilmington. They married in 1962 and settled down to raise a family of five boys and a daughter. Jimmy and Fran instilled in their home a love for education and the values of family, faith and good fun. They were founding members of the St. Thomas More Oratory (the UD Catholic campus ministry), where the clan of eight were mainstays.

As his children grew, Jimmy left his college coaching career to have more time to watch them develop and to pursue his own business interests. He never missed one of their games, matches or meets. A fierce advocate for lifelong mental and physical fitness, he not only encouraged others, but continued to exercise and play tennis himself well into his 80's. Always the coach, Jimmy would end up coaching football, track and tennis at several New Castle County high schools and eventually returned to teaching, before retiring in 1998.

Next to his family, Jimmy's first love was the University of Delaware, both for the traditions and values it instilled in him, and for the lifelong opportunities it provided him as a student-athlete and graduate. A prolific storyteller, he would famously share a tale with anyone willing to listen, most of which began somewhere on the Newark campus. In retirement, he lived in his beloved Newark through 2020, where he'd often be seen on campus, visiting and chatting with friends old and new.

He enjoyed volunteering in many formal and informal civic capacities, including at the St. Thomas More Oratory, the University of Delaware, the Scottish Games Association of Delaware and the Delaware Sports Museum and Hall of Fame.

Jimmy was honored to be inducted into the state of Delaware's Sports Hall of Fame, UD Athletic Hall of Fame, Delaware Track & Field Hall of Fame and Western Chapter of the Pennsylvania Sports Hall of Fame. Among his many accomplishments, nothing gave him more enjoyment, pride or satisfaction than witnessing and sharing the successes and achievements of his children and grandchildren.

He is preceded in death by his devoted wife of 39 years, Fran, who passed away in 2001. He is survived by three sisters: Patricia Eyman of Naples, Fla., Carol O'Malley of Needham, Mass. and Janice Pitcairn of Jacksonville, Fla.; six children and 16 grandchildren: son Jack (Mary) of Rose Valley, Penn. and Erin (Patrick), Colleen, John and Kelly; son Jim Jr. (Debbi) of Glen Burnie, Md. and Shae and Jimmy III; son Terry (Jean) of Machipongo, Va. and Forest and Liam; daughter Tracey Gianforcaro (George) of Lincoln University, Penn. and George, Katie and Michael; son Dan (Amy) of Columbia, Md. and Hannah and Bennett; son Michael (Melissa) of Wilmington, Del. and Thatcher, CiCi and Becket.

The family looks forward to an in-person celebration of Jimmy's life when COVID restrictions are lifted. Private services will be held at the R.T. Foard & Jones Funeral Home and St. Thomas More Oratory on Wednesday, Dec. 23.

In lieu of flowers, the family suggests contributing to the St. Thomas More Oratory or the Flynn Family Scholarship Fund at Tower Hill School. The fund was inspired by the sacrifices made by Jimmy and Fran, both Delaware teachers, to give their children extraordinary educations and to pay forward on their vision.
LINKS

R.T. Foard Funeral Home, P.A.

The Newark Post
https://www.newarkpostonline.com