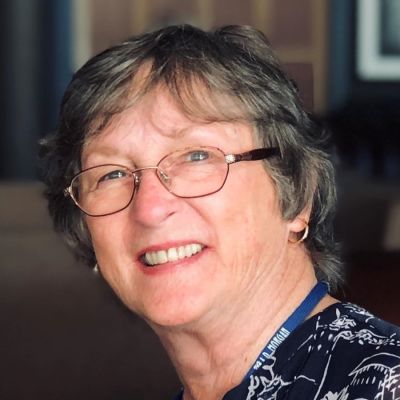 Jacqueline
Jackie E.
Sage
Did you know Jacqueline? Please share your stories and photos, and help spread the word about this page!
Jackie was born in Waukegan, IL on July 1, 1949 and she earned her Guardian Angel Wings on Sunday January 19, 2020. On paper, Jackie had many of the usual adjectives next to her name- wife, mom, friend, sister, daughter; but, in truth, those were just the tip of the iceberg. Jackie was the passenger seat driving love of Terry's (aka Tear, Terrance, and a few expletives) life for 54 years. They met in Waukegan, IL while scooping the loop in January of 1966 (she was the one with the long hair and the pink sweater), married the day after Jackie's 17th birthday 6 months later, and added Tracy (Belcher) and Kim (Standring) to the fam in 1970 & 1974. Jackie the Wife and Mom was pretty freaking awesome. With a glass of wine in hand, She made sure Terry always had vegetables that he would actually eat on the dinner table, a long honey-do list to save him from dreadfully boring things like relaxing, and, of course, she helped him to navigate the roads with constant criticisms-er, directions- and frequent use of the passenger-side brake pedal (although the darn thing never seemed to work right for her). Jackie also took care of her girls... she let them clear the table and do the dishes every night because they loved domestic chores like every other kid, dressed them in semi-similar clothes for the occasional family portrait, shuttled them to friends houses or activities, and made them listen to the oldies station until they grew to love the music. Jon (Tracy) and Jason (Kim) , AKA the sons-by-other-mothers, added some testosterone to the Sage family... and, with it, expensive weddings and grand babies! Make no mistake, Emily, Tyler, Dylan, James, Caroline, and, Jack replaced Terry, Tracy, and Kim in Jackie's heart. There was nothing she wouldn't- and didn't do- for her grandchildren (don't even get us started on what she would do for the grand dogs!). All of the kids were properly spoiled and unconditionally loved by Grandma. Time, little gifts, big gifts, money, trips, candy- anything those babies wanted, Grandma made sure to do... she even occasionally asked their parents before she did so! For Jackie, family was not only those related by blood or marriage. Family for her always included siblings and their spouses, nieces and nephews, long-time friends and their kids, neighbors from the 'hood, friends of Tracy & Kim from Oldsmar to Ocala... everyone was welcomed into Jackie's heart.To say that Jackie was loved is a monumental understatement...and we want everyone to know she loved them right back. It's not going to be easy to face each day without the earthly angel Jackie was, but we know she is going to make the very best heavenly guardian angel for us all. We love you to heaven and back, Mom... talk to you higher up.
LINKS
Sylvan Abbey Funeral Home
www.sylvanabbey.com

Tampa Bay Times Memoriams
tampabay.com
Memories
Looks like something went wrong.
Reload the page and try again.
Provided By
Sylvan Abbey Funeral Home