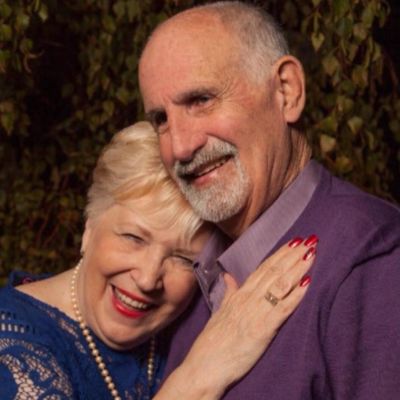 Jack
E
Hamilton
Join us in celebrating Jack—please share your stories and photos, and help spread the word about this page!
SANTA CLARITA, CA --- Dr. Jack E. Hamilton, 82, died peacefully in his sleep at his home in Laconia, NH, on Tuesday, November 2, 2021.

"Pastor Jack" Hamilton spent a lifetime in pastoral ministry and education. After graduating from Rock Island (IL) High in 1957, he received a scholarship to play football at Augustana College in Rock Island, IL. After one season, Jack enlisted in the US Army, eventually stationed as a Radar Specialist for the Nike Missile Program in Ft. Bliss in El Paso, TX. While at Ft Bliss, Jack accepted Jesus Christ as his Savior at the El Paso Foursquare Church. Soon after he began a correspondence course from L.I.F.E. Bible College. Upon his discharge, Jack enrolled for residential study at the college in 1961, graduating in 1965 with a Bachelor of Theology degree.

Shortly after beginning his studies, Jack met Carole Chambers, who worked at L.I.F.E. and as a secretary at Angelus Temple, and they married on August 3, 1963.

After college, the Hamilton's began their ministry in the newly formed Western Canada District as district youth directors. They later served on the pastoral staff of Kingsway Foursquare Church in Vancouver, British Columbia, and as senior pastors of Hastings Foursquare Church in Vancouver, British Columbia.

Upon their return to California in 1969, Jack and Carole went on staff at People's Church in Ventura, CA. It was while they served in Ventura that the Lord opened the doors for his ministry within the Catholic Charismatic movement which shaped his ministry.

In 1970, Jack and Carole were appointed as pastors of the Santa Maria Foursquare Church (known then as Valley Bible Church) in Santa Maria, CA. Pastor Jack also served at this time in Kathryn Kuhlman's crusades in Los Angeles bringing many people from the Central Coast to be a part. During the Hamilton's tenure, the church experienced significant growth from 40 members to over 1200 weekly attendance.

In 1982, Jack was asked to become the fifth president at L.I.F.E. Bible College (now Life Pacific University), a role he would hold until 1992. Under Jack's visionary leadership, in 1990 the school relocated from its original home next to Angelus Temple to a new campus in San Dimas, CA.

In 1992, the Hamilton's relocated to Cornelius, NC, to accept the pastorate of Grace Covenant Church. After 3 fruitful years, the Hamiltons returned to southern California where Jack accepted a role with The Church on The Way as a Senior Associate Pastor on the executive team and Vice President at The King's College and Seminary in Van Nuys, CA, with Dr. Jack Hayford. For the next 20 years, Dr. Hamilton served the Foursquare Church in various roles including District Supervisor and Missional Director. Dr. H, as he was referred to, also served for a decade as an Executive Pastor at The Church on the Way Santa Clarita (Crosspoint) with Doug Andersen. Upon his retirement, he and his wife moved to Laconia, NH, to live with their daughter and son-in-law, Rev. Tim and JJ Vercellono, and to serve with them at Real Life Church until his passing.

Pastor Jack co-authored many volumes in the Bible Books of The Month (Living Way Publications) with Dr. Jack Hayford and Dr. Scott Bauer. He ministered in over 40 countries on five continents, most notably Australia, Brazil, Philippines, and Turkey. Jack loved spending Friday nights as a referee for high school sports and his days on the tennis court and golf course. For many, he was mentor, encourager, and model. For his family, Poppy was their hero.

Dr. Hamilton is survived by his wife of 58 years, Carole and his children - Jeff and wife Jayme (of Mission Viejo, CA) and their children Justin (25) and Jordanne (23); Brad and his wife Heather (of Thousand Oaks, CA) and their children Lauren (29), Morgan (22), Christian (15), Cash (12), and Caleb (8); and JJ and her husband Tim (of Laconia, NH) and their children Shealyn (24) (and husband Sean Hood), Kaitlyn (22), and Jackson (21).

Memorial Services will held on Saturday, November 6, 2021, at 2:00pm at Real Life Church, 22 Pleasant St, Laconia, NH 03246 and on Monday, November 15, 2021, at 11:00am at Life Pacific University, 1100 West Covina Blvd San Dimas, CA 91773.

A Private Burial will be held at Forrest Lawn Cemetery- Hollywood Hills, CA.

In lieu of flowers, the family requests that donations be made to the Dr. Jack Hamilton Scholarship Fund at Life Pacific University.

Wilkinson-Beane-Simoneau-Paquette Funeral Home & Cremation Services and 603Cremations.com, 164 Pleasant St., Laconia, NH, 03246, is assisting the family with arrangements. For more information and to view an online memorial, please visit www.wilkinsonbeane.com.
LINKS
Wilkinson-Beane-Simoneau-Paquette
Quad-City Times
http://www.qctimes.com
The Signal
http://www.signalscv.com
Santa Maria Times
http://www.santamariatimes.com