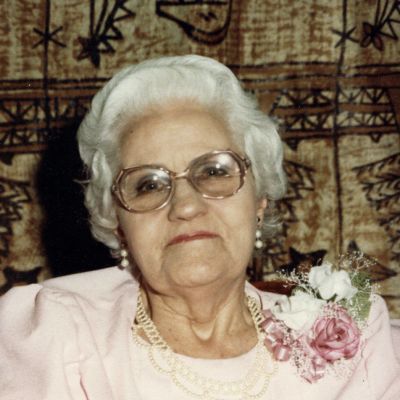 Ima
Palmer
Rose
Fun loving and quick witted lady. Humble woman who dedicated her life to serving others and treated all people with kindness and love.
Ima Palmer Rose, 93, passed away August 26, 2007 in Cottonwood Heights, Utah. She was born July 2, 1914 in Taylor, Arizona to Arthur and Evaline Gibbons Palmer. She married Stanley Baker Rose on March 28, 1938 in the Mesa Arizona LDS Temple.

Ima was a member of the LDS church and served in callings in all of the organizations. Her gift of teaching had a positive influence on many people. One of her greatest joys was serving in the England London South Mission with her husband.

Her survivors include two sons, Chuck Rose (wife Nancy) of Cottonwood Heights, UT and Will Rose (wife Grace) of Port Ludlow, WA; three daughters, Carolyn Bloodworth of Springville, UT, Valerie Peterson of Chino Valley, AZ and Sharon Ewing (husband Mike) of Springville, UT; 27 grandchildren, 68 great-grandchildren, 2 great-great-grandchildren; two brothers, Gus Palmer of Flagstaff, AZ and Van Palmer of Holbrook, AZ. Ima was preceded in death by her husband, parents, one sister, seven brothers and two sons-in-law.

Funeral services will be held Friday, 12:00 noon, Cottonwood Heights 3rd ward, 6890 So. 2228 East. Friends may call Thursday, 6:00 -8:00 at Mountain View Memorial Mortuary, 3115 East Bengal Blvd. (7800 So) and Friday, one hour prior, at the church. Interment, Mountain View Memorial Cemetery.