MARCH 23, 2020
Remote Service Tutorial
Want to broadcast a remote service? Create a YouTube Live event and share it from We Remember.
See it live, remember it forever
You can combine the power of a live YouTube broadcast with We Remember to bring friends & family together remotely. YouTube Live broadcasts are saved as a video memory in We Remember, so anyone can view the service in real-time, and when it's over, the recorded video is still available as a memory for those who weren't able to attend the live broadcast.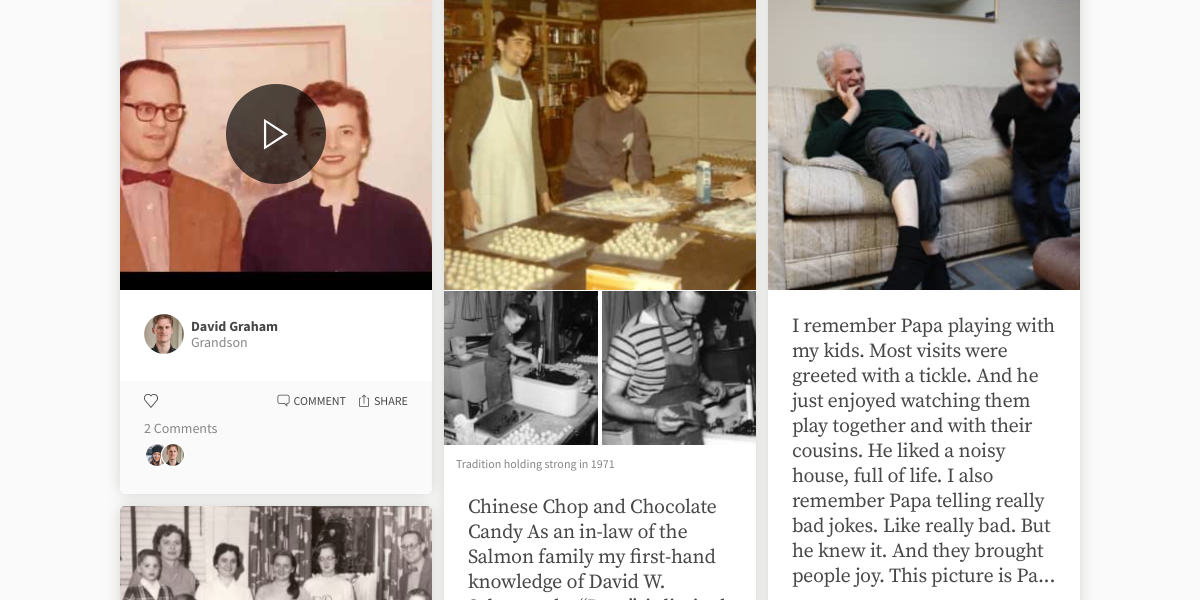 Memories with a video show a "Play" button over the image.
Important! If you have never hosted a live video before, do this step a few days before you plan to broadcast—there is a 24 hour wait for first activation.
Visit youtube.com and make sure you are signed in. In the upper right, there is a little camera icon with a "+" inside. If you have never hosted live before, click that and follow the instructions. You will need to verify your account and wait for 24 hours for Live to become active.
Once your account is activated for live, click the camera "+" icon again and choose "Go Live" from the menu. In the screen that follows, name your stream, choose whether to make it public or link only, and be sure to toggle the "Schedule for later" button to On. Adjust any further settings and click Ok. In the next screen, look for the Share button in lower right, and copy the link to paste into a We Remember memory.
Step 2: Create a We Remember page
Visit WeRemember.com and click on the Get Started button in the first section, or start by filling out the form at the bottom of this page. It's completely free and only takes a few minutes. All you need to provide is a name, birth & death dates, and a location.
Step 4: Share the We Remember page!
To the right of "Friends & Family" there are three share buttons. You can get the link to text or paste into an email, request a formatted email be sent for you, or share via Facebook. Pick whichever will reach the most people (or use all three!). WHen you share, note the date and time (and time zone!) of your event, and ask people to share memories as well during their visit.